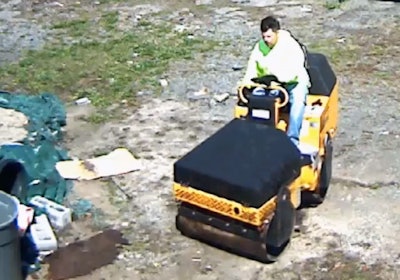 The New York Police Department is searching for the bold thief you see in the video below after he strolled into a construction company's equipment yard in the Bronx and drove off on a MultiQuip ride-on roller-compactor in the middle of the day.
According to a report from the New York Post, the thief stole the machine from a yard at 1283 East Gun Hill Road in Williamsbridge. It happened on April 17 and the yard's surveillance cameras apparently caught the act on tape. Unfortunately, this was the last time the machine was seen.
Anyone with information on the theft is asked to call the NYPD's Crime Stoppers Hotline at 800-577-TIPS.
[youtube 8GI4z4j4f3E nolink]
Via: TruckYeah!