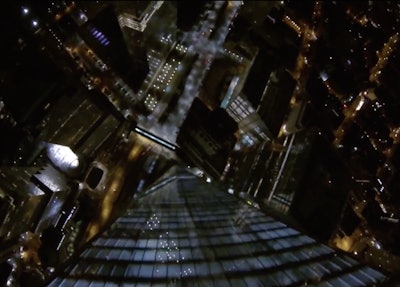 Editor's Note: The video below contains some coarse language that some readers might find inappropriate. Viewer discretion advised.
Video has surfaced on YouTube captured by a group of men who broke into the 1 World Trade Center construction site last September, climbed to the building's roof and parachuted into the city below.
At 1,776 feet tall, the building, also known as Freedom Tower, is the tallest skyscraper in the Western Hemisphere. All of the building's floors have been completed and the spire was placed atop the building in May 2013. Interior work is being done now and the building is expected to open later this year.
The men turned themselves into the New York City Police Department on Monday afternoon, according to a report from the New York Times. Three of the men actually made the jump from the building while a fourth kept watch from the ground.
Lawyers for the four men—Andrew Rossig, James Brady, Marco Markovich and Kyle Hartwell—expect them to be charged with trespassing and burglary. A security guard with Goldman Sachs saw the men land and it took police until January to identify them. They gained search warrants and found video of the jump, including the one above, taken by the men with GoPro cameras.
[youtube nz7sxt9xeJE nolink]
However, the stunt raises questions about the amount of security at the new tower.
"We just kind of walked in," Rossig, 33, told the Times. "It's supposed to be the most secure building in the world. God forbid it was somebody else getting in there with a real intention to harm New Yorkers."
Timothy Parlatore, a lawyer for Rossig, said the men encountered no security guards as they climbed the stairs of the building's 104 floors.
Just last week another break-in was pulled off by 16-year-old Justin Casquejo who entered the site through a hole in the fence before climbing scaffolding and taking an elevator to the 88th floor. He then snuck past a security guard and climbed the building's spire. After two hours, he was arrested in the building's lobby.