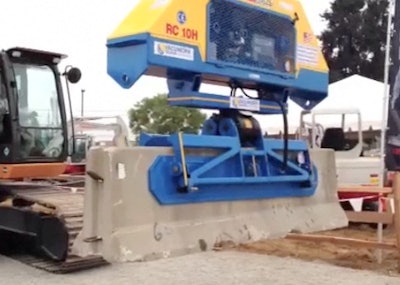 Vacuworx introduced its concrete barrier lifter at ICUEE, a product aimed at providing a safe and efficient way to move highway barriers.
"Barriers are typically moved late at night or early in the morning, which doesn't lend itself to ideal working conditions," says Bill Solomon. "We feel this is a way to get people out of harm's way when positioning these barriers."
The 9-foot-wide concrete road barrier lifter fits underneath a Vacuworx RC series lifter, which Vacuworx uses to power several of its other vacuum lifters. It is capable of lifting and repositioning 90 percent of the types of Jersey barriers now in use, says Solomon.
The idea for the barrier lifter had its genesis in a news report on a soldier fatality in Afganistan, according to Solomon. "Soldiers were moving security barriers, and although the machine they were using was heavily armored, there still needed to be a guy on the ground hooking up the barrier, who was exposed to sniper fire. And I thought, why did he even need to be out there?"
[youtube s-2NVXO6RCs nolink]
Vacuworx designed the barrier lifter as an attachment to its existing lifters so users wouldn't need to invest in an entirely new system. "We estimate that using it will be seven to 10 times faster than traditional methods," Solomon says. The RC Series lifter, which can be attached to excavators, backhoes, forklifts, cranes or knucklebooms, can handle loads up to 44,000 pounds, dependng on the vacuum pad configuration.
The lifter includes two changeable vacuum pads that fit over the top of materials. Vacuworx says that once a barrier is lifted, there is no interruption in the vacuum seal, and if necessary, the unit's vacuum storage reservoir can hold materials for a sustained period under no power.
Vacuworx's rental program offers the barrier lifter system for $6,500 to $8,500 a month. The barrier lifter part of the system retails for around $17,000, while the entire system, depending on size, runs $25,000 to $65,000.