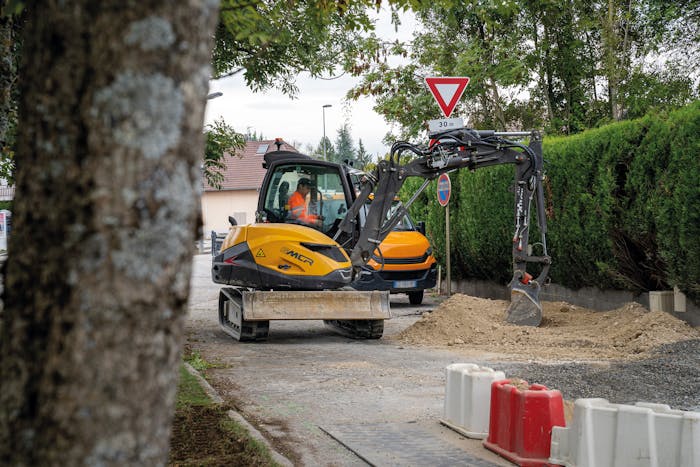 Mecalac
Is now the right time to buy a new compact excavator?
While our OEM experts were naturally enthusiastic about buying new, they did offer these pointers on when and how to take the plunge.
Running longer
Dan Collins of Kobelco says 10,000 hours is about the point when repair costs dictate replacement, but given the typical annual hours on a compact excavator, it can take a long time to accrue that many hours.
"The broken booms and sticks and cracked frames that we saw 20 years ago are long gone," he says. "Newer machines are more robust, and most of them probably have hours remaining. But they lack the features and technology of the latest machines, and that's a serious shortcoming."
He says that in this extremely competitive market, manufacturers race to add features to stand out, and the customer benefits.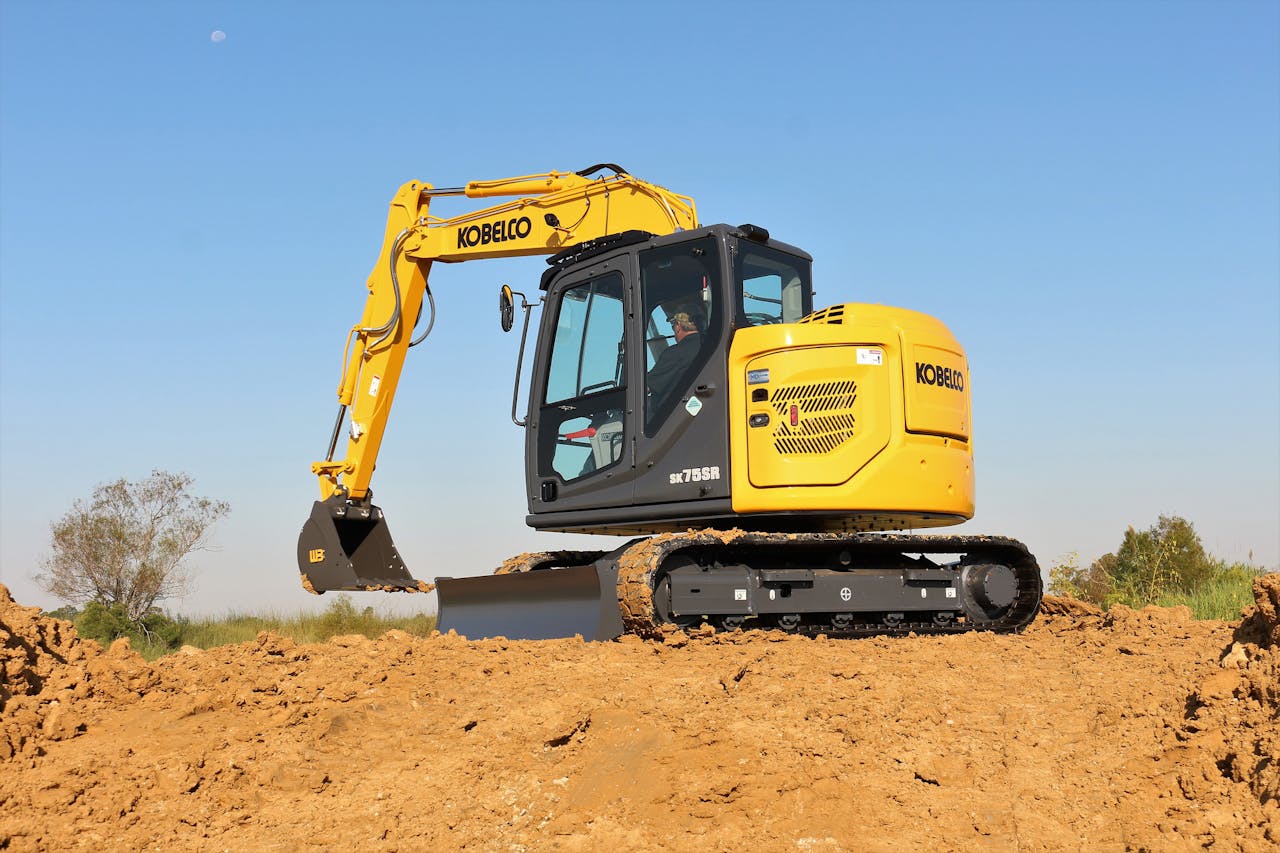 The SK75R-7 (shown) and SK85CS-7 are the next generation of mid-size compact excavators from Kobelco. Digging speeds have increased 37% over previous models, resulting in cycle time reductions of 15%. Engine power output is increased 28%. Both have 70 horsepower. Operating weights are 18,700 pounds for the SK75R-7 and 20,100 pounds for the SK85CS-7.KobelcoJay Quatro, commercial product manager with Wacker Neuson, cites the three-point bucket linkage on the its new ET42. "It's the same linkage as is found on our larger models. The unique kinematic linkage system offers a 200-degree angle of rotation that combines excellent breakout force with a greater range of motion."
The result is greater vertical digging depth, especially next to walls, and more rotation to keep the load secure before dumping, he says.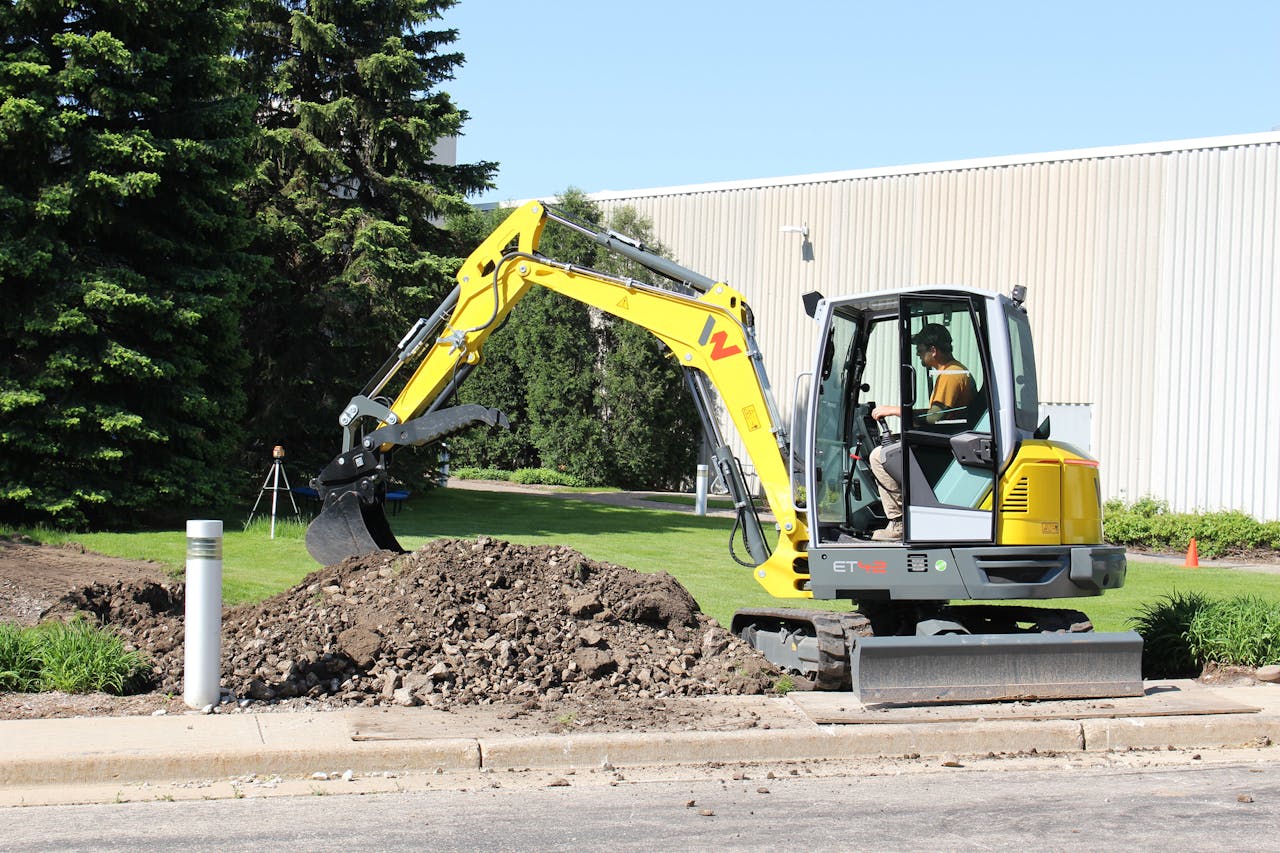 Operating weight of the 43.5-horsepower Wacker Neuson ET42 is up to 10,635 pounds. A key feature is the three-point kinematic bucket linkage system that enables a 200-degree bucket rotation for excellent breakout force, greater digging depth (11 feet 7 inches) and dump height (11 feet 8 inches, with short dipper stick). Flow is 23.78 gpm at 3,553 psi; there are four auxiliary circuits.Wacker Neuson"In times of uncertainty or in recessions, the strong, diverse and well-balanced companies thrive," adds Greg Worley, market professional with Cat. "You need to make sure you have the equipment and other resources to meet the challenges."
He says new machines are always going to be more efficient and versatile than preceding models. These advances bring benefits to all customers but especially those in production applications.
"At this time the only reason to hold onto a piece of equipment," he says, "is if you have difficulty in obtaining a replacement, especially given the global manufacturing and logistics challenges."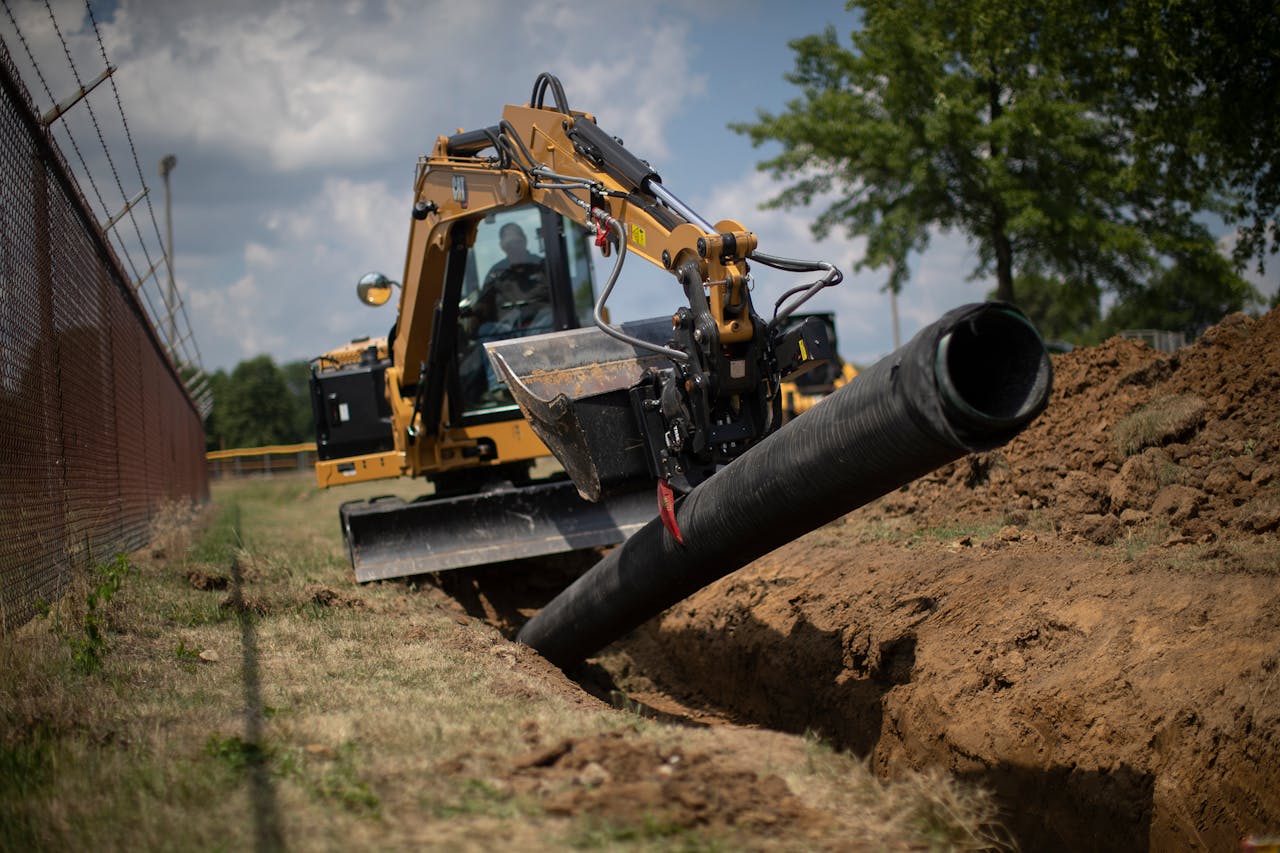 Compared to previous models, Cat's 306 CR offers up to 10% lower ownership costs due to improved fuel efficiency and longer service intervals, as well as up to 20% more performance with customizable operator settings and improvements in lift, swing, travel and multifunction. The 55.9-horsepower machine has a 15,766 pound operating weight. Maximum vertical wall depth is 8 feet 11 inches with the standard stick and 10 feet 5 inches with the long stick.CatManufacturing processes have advanced. Metallurgy is refined. Bearing design and placement are improved. And, says Jonathan Tolomeo, product manager, Komatsu, clearances are tighter. "Those tighter manufacturing tolerances and the new oils designed to work with them have resulted in machines that should have much longer service life, which reduces total owning and operating costs."
More versatile than ever
Compact excavators have grown to be among the most versatile machines on the market. There are two sides to this versatility – the attachments and the excavators themselves – and they need to be properly paired to achieve maximum benefit.
"Compact is all about tools," says Mike Watt, excavator product manager, LiuGong North America. "Nobody wants just a bucket."
He says no dealer has every available attachment, and finding the right tool may require shopping around. One key to compatibility is pin diameter. "Make sure your coupler or pin grabber is compatible with the pin diameter of the tool you're considering." Other key considerations include hydraulic specifications, center of gravity, balance and counterweight, with the latter three all interrelated.
The 9035EZTS is LiuGong's first zero tailswing model in the 3.5-metric-ton class. Operating weight is 8,510 pounds. Maximum dig depth is 11 feet 3 inches, and maximum reach at ground level is 18 feet 9 inches. The machine's footprint is 6 feet 11 inches by 5 feet 7 inches. A 24.4-horsepower Yanmar engine provides ample power with low fuel consumption.LiuGong"Takeuchi's compact excavators come standard with three sets of auxiliary circuits," says Keith Kramlich, national product and training manager, Takeuchi. "This makes application possibilities nearly endless."
For clearing and forestry, for example, the excavator can have a hydraulic coupler, hydraulic thumb and high-flow mulcher attached at the same time, Kramlich says. Changing attachments can be done from the safety and convenience of the cab.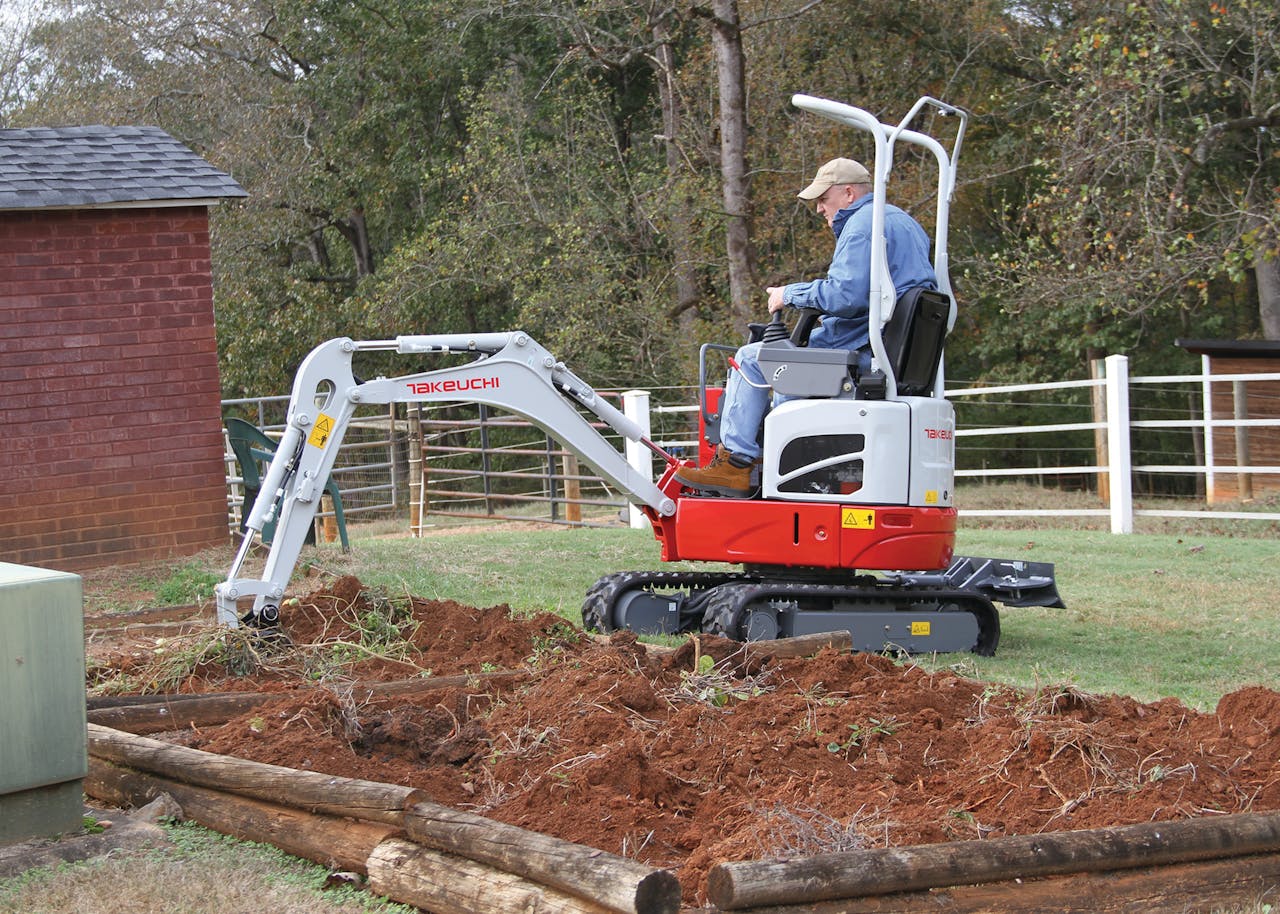 The smallest of Takeuchi's excavators, the TB210R, has an operating weight of 2,535 pounds, bucket breakout force of 2,518 pounds and arm digging force of 1,439 pounds. Auxiliary flow is 5.9 gpm at 2,680 psi. The Kubota D722-E4B engine is rated at 11.7 horsepower and 26.4 foot-pounds of torque. Maximum dig depth is 5 feet 9.1 inches, and maximum reach at ground level is 10 feet 6.8 inches.TakeuchiKurt Moncini, senior product manager with Komatsu, says the PC88 has a thumb bracket and two-way hydraulics. It also has a swing boom and is a minimum-radius machine where the counterweight stays within the tracks. Its improved blade design makes it more efficient for backfilling.
Compact equipment is often seen as a replacement for hand labor, and "any time I can take a tool out of the hands of a worker and replace it with an attachment on a compact excavator, I win," says Moncini.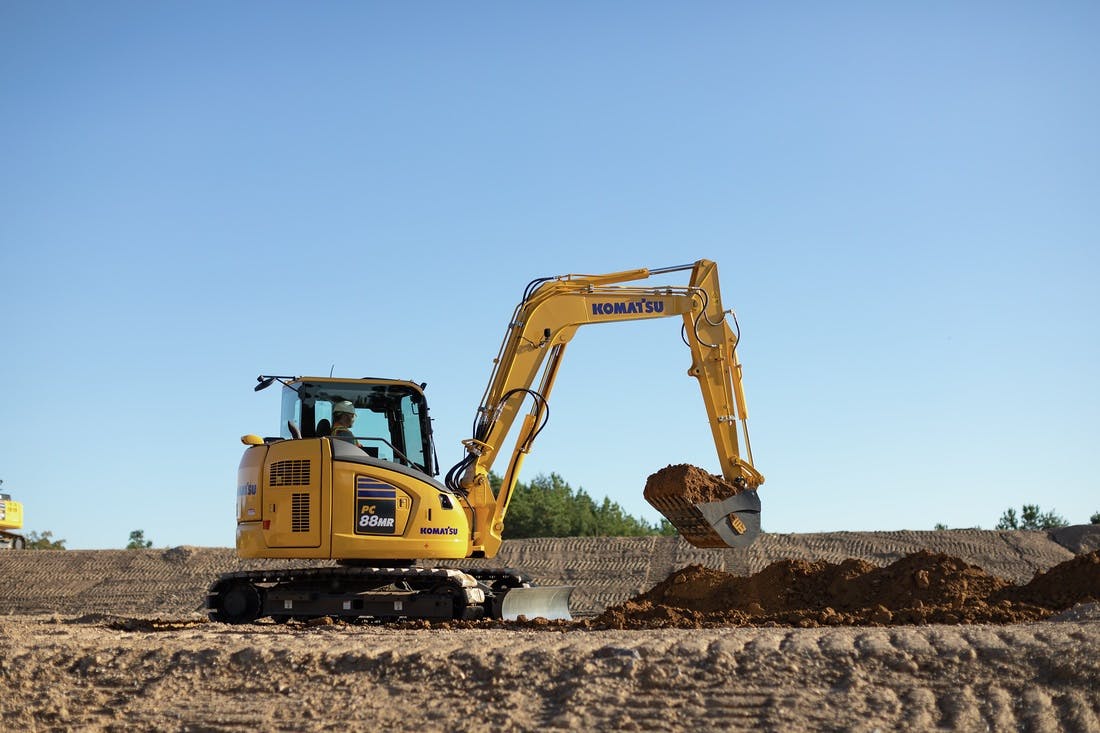 The 68-horsepower PC88MR-11 from Komatsu has an operating weight up to 19,224 pounds and will accommodate buckets up to 0.26 cubic yards. Two-way auxiliary hydraulics provide up to 36.5 gallons per minute at 2,490 psi; proportional joysticks offer versatility and precision attachment control. The swing-boom design and short tail swing allow use in confined spaces and digging parallel to buildings and barriers.KomatsuVersatility has expanded in digging applications, says Kevin Roberts, general manager North America, Link-Belt. "When considering attachments, don't overlook the wide assortment of buckets."
At the same time, he says, recognize that the "versatility of the compact excavator is a path out of being pigeonholed as a contractor."
Sho Aoe, portfolio manager, Link-Belt, notes that versatility applies not only to what compact excavators can do but also to where they can do it. "The ability to work in a confined area is a huge advantage."
People have been staying home; many will likely continue to work from home and are eager to make improvements to their property. "There's a lot of work in people's back yards," says Aoe.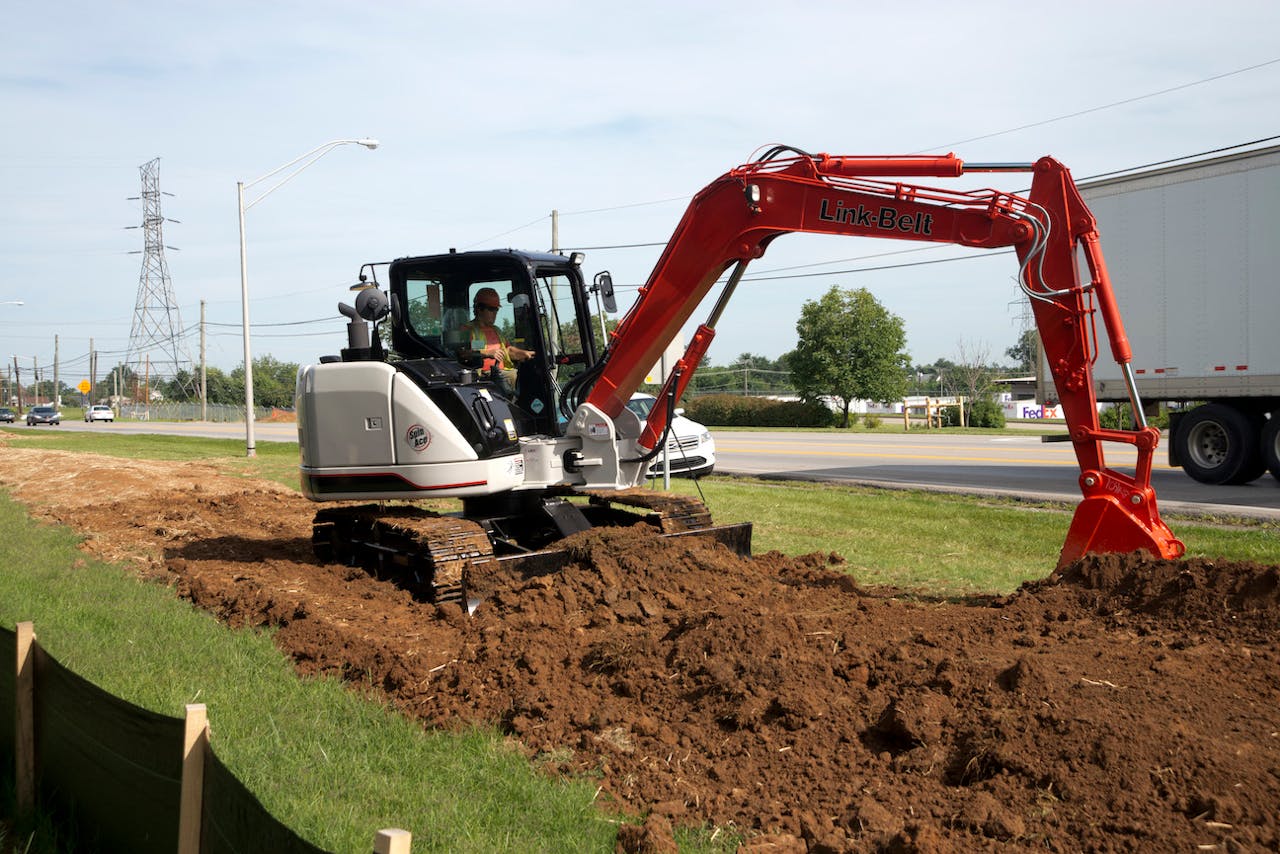 The 80 X3 Spin Ace from Link-Belt has a 54-horsepower Isuzu engine and an 18,900-pound operating weight. Maximum dig depth is 13 feet 9 inches, and maximum reach at ground level is 22 feet 9 inches. Arm force is 8,880 pounds, and bucket digging force is 12,800 pounds.Link-BeltErik Coyle, product specialist, Yanmar, says attachments are in high-demand for Yanmar. Its models from the SV40 to the SV100 have second auxiliary circuits available; they are standard on the ViO80-1A and SV100-2A.
"Mini excavators aren't just hydraulic shovels anymore," he says. "Be versatile in your offerings by having the right attachments for any job that comes along."
Justin Steger, solutions marketing manger, site development and underground, Hitachi - Americas, offers advice for those considering a new machine.
"A good rule of thumb is to consider the work you're doing now with regards to lift, reach, dig depth and operating weight and try to spec a machine with approximately 25% more dig depth," he says. "This will increase the other key specs to provide enough machine to allow room for growth in your business."
The zero tailswing ViO35-6A from Yanmar has an 8,214-pound operating weight with cab. Powered by a 24.4-horsepower Yanmar engine, the ViO35-6A has a maximum dig depth of 10 feet 8 inches. Bucket force is 7,216 pounds, and arm force is 4,588 pounds. Standard equipment includes hydraulic quick coupler, two-way control pattern, joystick pilot controls, eco mode and proportional auxiliary hydraulics control.YanmarAaron Kleingartner, product and dealer marketing manager, Doosan Infracore North America, offers further insights:
"Today's machines are more capable than the previous models in the same size class. Today's 6- and 8-ton models can do work that would have required 12- or even 14-ton machines not long ago."
In the end, it all comes down to specs, but don't assume the specs you need will require the size class of machine you've used in the past.
Expanding the boundaries
Some OEMs are redefining the compact excavator.
Mecalac offers two models of wheeled compact excavators below 10 metric tons, the 7MWR and 9MWR. "Among the appeals of wheeled models are roadability and increased stability, especially when lifting over the side," says Peter Bigwood, general manager, Mecalac North America.
The company also offers three crawler skid-excavators with travel speeds up to 6.2 mph and the ability to mount traditional excavator buckets as well as loader buckets and forks. All models feature Mecalac's three-piece arm (two-piece boom plus stick). The company partnered with Rototilt to provide an integrated tiltrotator from the factory that retains the advantages of the Mecalac quick-connect.
"We know that Mecalac is a premium-priced machine," says Bigwood, "but our one machine can do the work of several due to our three-piece arm and, with our crawler skid-excavators, the ability to use both excavator and loader attachments."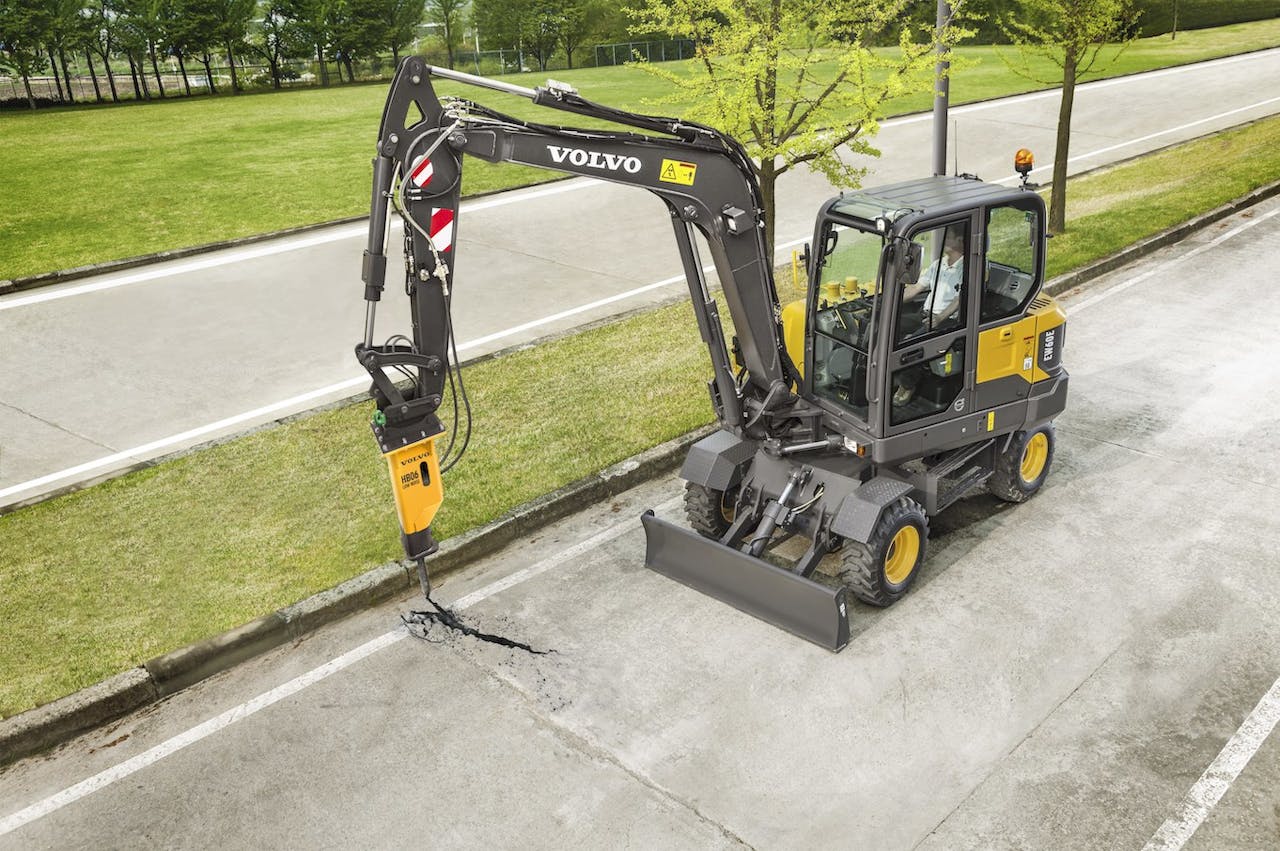 The 63-horsepower EW60E is the newest and smallest model in Volvo's wheeled excavator lineup. Operating weight is up to 12,900 pounds. Bucket capacity is up to 0.35 cubic yards, and maximum lift capacity is 6,170 pounds. Maximum dig depth is 10 feet 9.6 inches. Travel speed is up to 12.4 mph, making the EW60E well suited for ditch work, working in subdivisions and other applications involving frequent roading of the machine.Volvo CEVolvo also offers wheeled models. "Four-wheel drive on compact excavators allows operators to go on- and off-road with greater mobility," says Darren Ashton, product manager for compact excavators, Volvo CE North America. "They can access hard-to-reach areas but also easily drive these machines between jobsite locations."
And Volvo's electric model, the ECR25, uses lithium-ion batteries and a single electric motor to run the hydraulic system. Fully charged, the batteries provide enough power for 8 hours of use in typical applications.
"These quiet, emissions-free machines open opportunities where noise and emissions are important considerations," says Ashton. Examples include busy urban areas, indoor demolition and tightly regulated food production.
"Early adopters of electric equipment will establish themselves as leaders in this rapidly growing market space," Ashton says.
Core competency
Versatility is good, but today's compact excavators are also better at what they were originally designed to do: dig.
"Owners who are not planning on purchasing new attachments can expand into other markets using standard-configuration machines," says Patrick Baker, product manager, Kubota Construction Equipment. Those markets can include residential and commercial construction, municipal jobs, hardscaping and landscaping, road and highway work.
"Build a good reputation and solid working relationships in one area and be willing to take chances on new opportunities," Baker says.
He points out that with the introduction of the U48-5 reduced tailswing model, Kubota now has conventional and reduced tailswing models in every size category from 2 to 6 tons.
The Kubota KX057-5 is available with cab or canopy. The 47.6-horsepower machine has a dig depth of 12 feet 9 inches and bucket breakout force of 10,172 pounds. A full-color 7-inch LCD screen is standard. Options include keyless ignition allowing four-digit codes for up to 10 user passwords.KubotaRyan Anderson, product marketing manager, New Holland, says that compared to other compact equipment, compact excavators are especially well suited to use precision tools such as lasers and depth checkers. "These will make you better and faster at the work you already do and will open up new jobs for you where you can use your existing equipment."
He says that demolition is a growing market and not just large demo projects, such as commercial buildings and malls, but also smaller buildings such as barns and homes. The extent of investment may be a specialty bucket or thumb if the excavator is not already so equipped.
Ways to get into a new machine
While traditional methods remain popular, the market is finding creative ways to help customers acquire new machines.
Hitachi introduced its ZX-tra monthly payment offer on ZX26U-5, ZX75US-5 and ZX85USB-5 models. The ZX26U-5 is available with cab or canopy, while the other two are cab-only. The three models cover a range of machine specs and meet the needs of a variety of customers.
"The ZX-tra Offer features low monthly payments…to provide customers with extra savings," Hitachi says. ZX-tra is scheduled to run through October 31.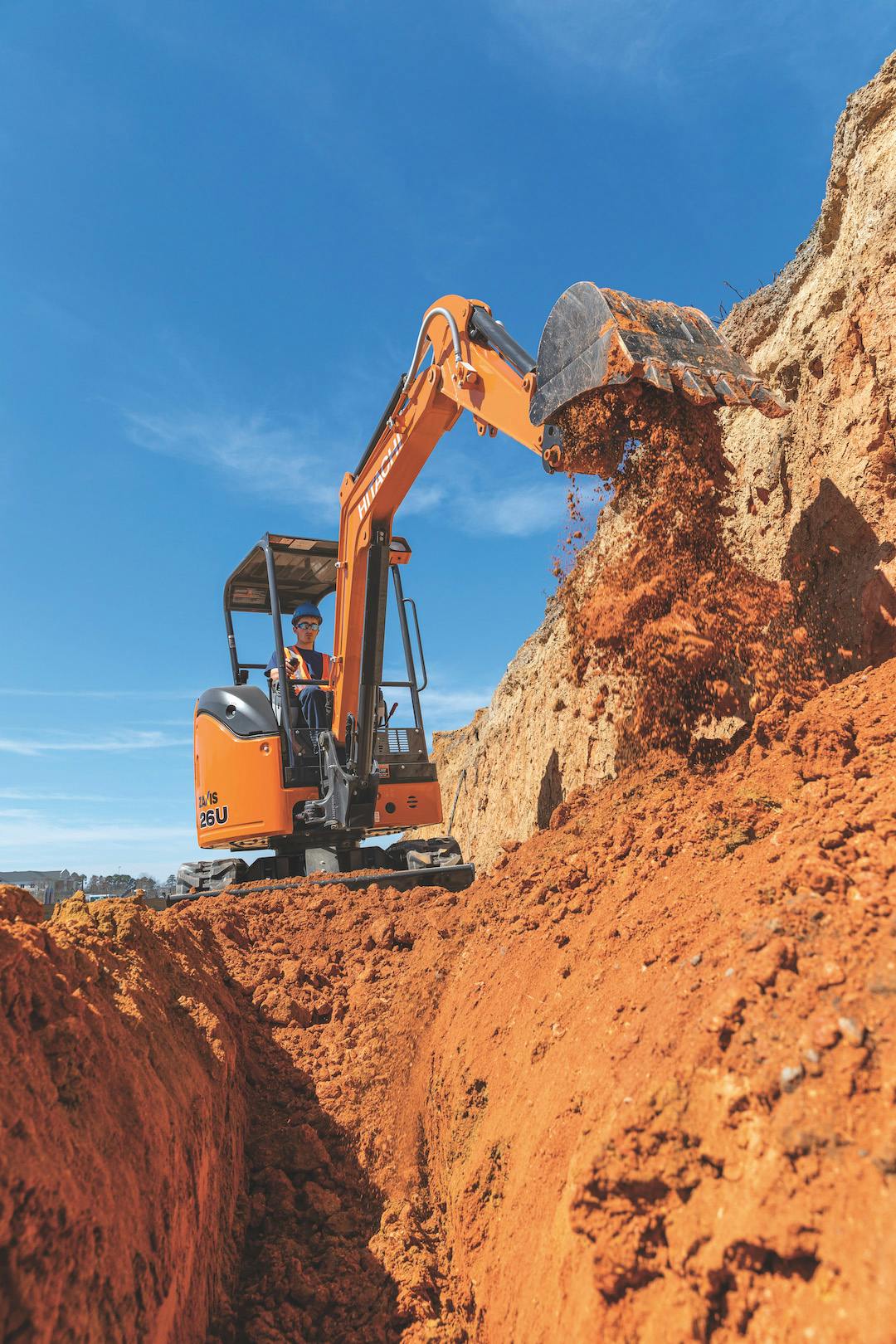 The second-smallest model in the Hitachi lineup of compact excavators, the ZX26U-5, has 20 horsepower and operating weights of 5,780 to 6,110 pounds. Dig depth is 8 feet 6 inches, and dump height is 10 feet 6 inches. Tailswing radius is 2 feet 7 inches. The two-speed drive provides a maximum travel speed of 2.8 mph. Boom swing is 70 degrees left and 60 degrees right with canopy or cab.HitachiBuying machines coming off lease or rental is a way to reduce front-end costs while still getting new technology and features and a factory warranty. But the availability of these machines relies on turnover.
"We saw some interesting trends with rental shops last year," says Jason Boerger, marketing manager, Bobcat. "Most significant was a reluctance of rental businesses to purchase new equipment. That makes perfect sense in view of the volatility on a global scale caused by the pandemic."
The market is recovering. He says the key to a successful rental business is to control operating expenses, and compact excavators, with their low initial and ongoing costs and ease of transport, support this practice.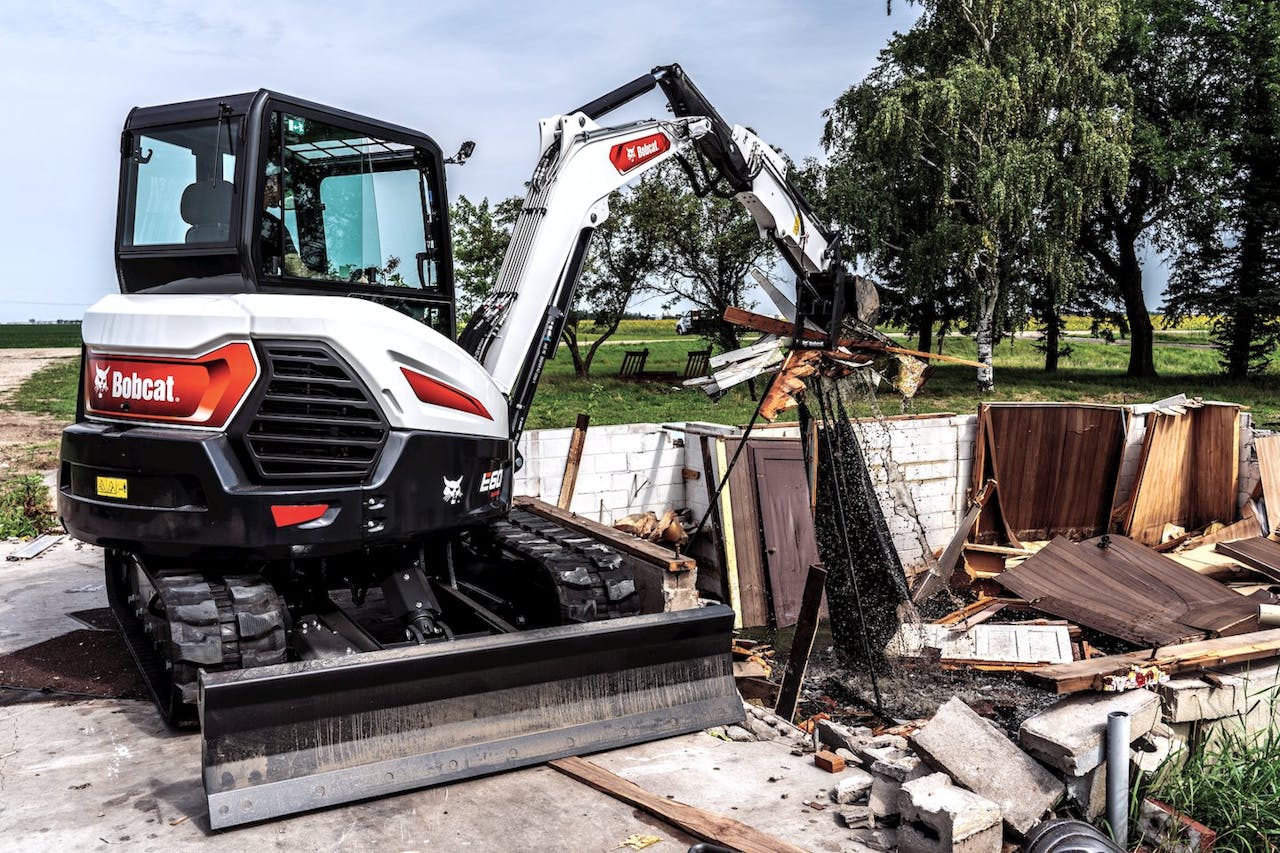 The Bobcat E60 R2-Series comes in long-arm and extendable-arm configurations. Operating weights are 12,3015 and 12,646 pounds, respectively. The 55-horsepower machines' boom swing is 75 degrees left and 50 degrees right. Maximum dig depths are 13.1 feet long arm and 14.8 feet extendable arm, while maximum dump heights are 14.3 feet long arm and 15.2 feet extendable arm.BobcatWatt says only 10% of LiuGong compact excavator sales go to end users; the rest go to rental. The company says that rental constitutes nearly 50% of the U.S. construction equipment market and that more than 75% of products priced at greater than $100,000 are rented before they are sold.
LiuGong North America is working with Hitachi Capital to operate the LiuGong North America Dealer Owned Rental Fleet. The program has multiple goals, including the creation of a nationwide inventory of low-hour, high-value machines. The largest compact excavator in the LiuGong line, the 909ECR, is also the smallest model eligible for the program.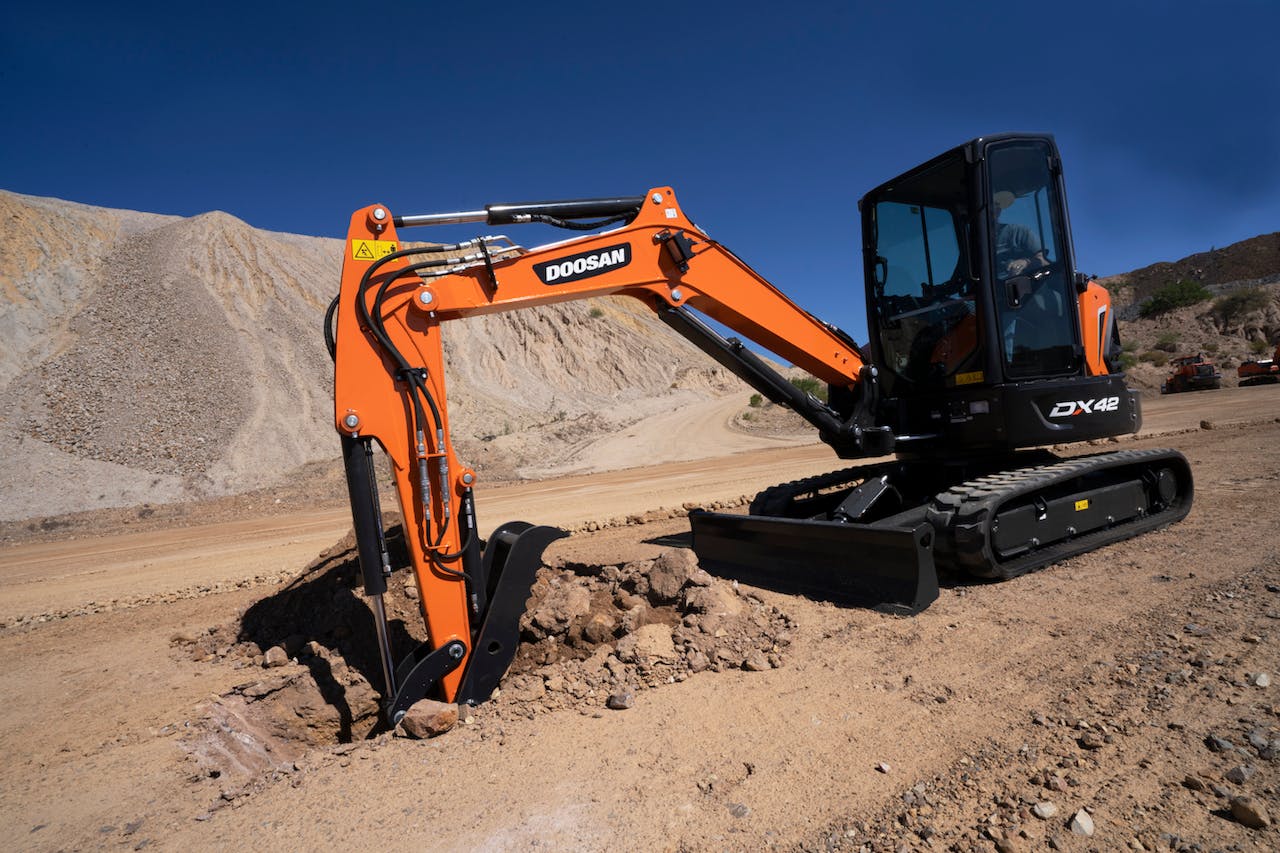 The Doosan DX42-5K (shown) and DX50-5K compact excavators feature a new dual-track roller system and enhanced counterweight for improved performance in over-the-side digging and lifting. Tie-downs have been increased from two to six for more secure transport. A long-arm option is available for both models. The DX42-5K has 42.6 horsepower and a 10,114-pound operating weight. The DX50-5K has 49.7 horsepower and an 11,486-pound operating weight.Doosan InfracoreKleingartner says rental took a hit in the early months of Covid. The rental market is rebounding, but because rentals were down for part of last year, replacement rates have slowed and OEM sales into rental have slackened temporarily.
Despite fluctuations in the market, the contractor's rental strategy is unchanged, he says. It includes renting niche machines and using long-term rentals for specific jobs.
Contractors can also consider a rental purchase option. Most rental houses will let the customer move to an RPO at any point in the rental term; it doesn't have to be a stipulated agreement up front.
"Managing the role of rental to the business is the same as always," says Kleingartner. "It comes down to profit and efficiency."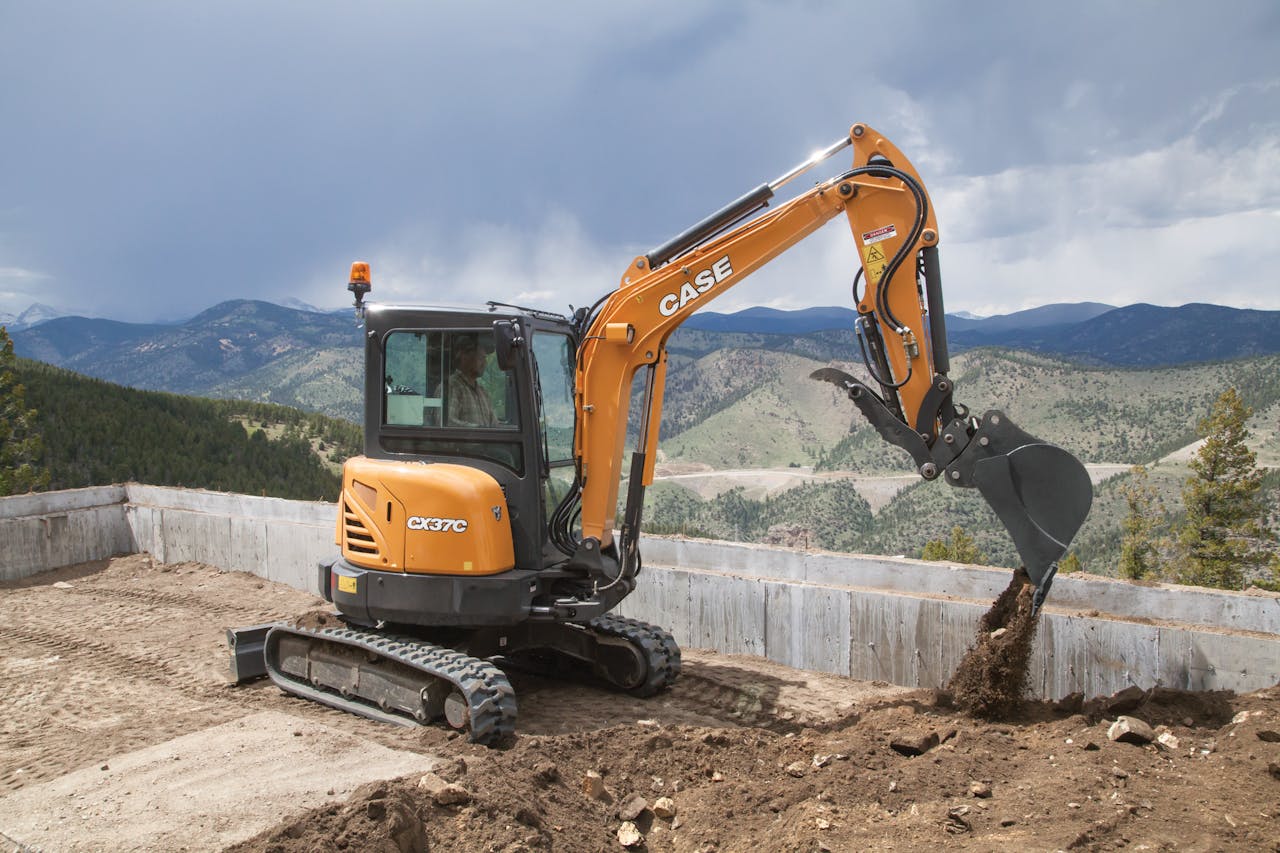 The Case CX37C falls in the middle of the six models in the C Series. The 24.4-horsepower machine has an operating weight of 7,990 pounds. Dig depth is 10 feet 3 inches. A ROPS/FOPS four-post canopy is standard, while an enclosed cab is an available option. A backfill blade is standard and an angled blade is optional. All fill ports, filters, gauges, grease points and main service items are grouped together and have easy access from the ground.Case CE
JCB offers cab and canopy options on its 19C-1E electric compact excavator. The cab's 70/30 split front glass with clear jointing provides an unobstructed view of the digging area. The 19C-1E has the same wipers and LED work lights as the diesel models. Maximum dump height and maximum dig depth are both 9 feet 3 inches. The three-battery power pack provides 15 kilowatt hours, enough for a typical day's work on a single charge.JCB