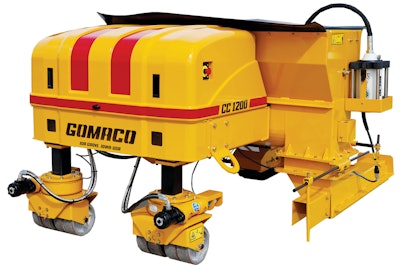 GOMACO
Lithium-ion batteries. Is there anything they can't do?
In a first for the industry, GOMACO announced it will build a battery-powered concrete slipform machine, the CC-1200e, for high-production curb and gutter work, barrier, parapet, sidewalk, recreational path, small canal, and water channel types of jobs.
Development of the battery-powered machine has been ongoing for almost two years, says Kevin Klein, vice president of engineering/research and development.
At the heart of the CC-1200e is a power-dense, 48-volt DC lithium-ion battery pack that provides enough juice for a full day of paving — sans exhaust fumes, engine noise and vibration. Charging options include a standard eight- to 10-hour system and a fast charge two-hour system.
The battery-electric paver features GOMACO's G+ control system with a full function radio remote control that puts all machine operations in the hands of the operator. Travel control, manual three-point grade control, cross auger directional controls, vibrator control dial, warning lights and emergency stop are all on the remote's control panel.
The CC-1200e is also equipped with rotary-sensored slew drive steering on its front-wheel assemblies. This allows smoother paving, easier control and a 24-inch turning radius depending on the mold profile.
The hopper offers 19 cubic feet of capacity with up to 15 inches of horizontal sliding capabilities, for easier alignment with ready-mix trucks. A 12-inch diameter by 5.5-foot-long auger stirs the concrete at variable speeds up to 43 rpm. Curb molds can be positioned for right-side or left-side paving.
The variable speed electric vibrator is coordinated with the stop switch to provide automatic on/off control synchronized with the forward travel of the paver.
At 8.2 feet long and 7.8 feet wide, the compact dimensions of the CC1200e prove easy to maneuver on the jobsite. Travel speeds up to 93 feet per minute are possible thanks to its rear track and two front-wheel assemblies.
The paver's rotary-sensored slew drives and smart hydraulic cylinders allow the G+ control system to know the position of all three tracks and make as-needed steering adjustments. Independent hydraulic travel drive to each track allows G+ to control each track's speed through the radius.