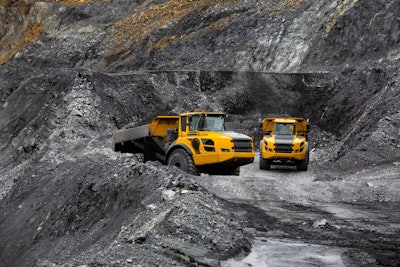 BKT
BKT's Earthmax SR 412 tire -- featuring a robust casing and all-steel belts -- is designed for transporting heavy loads while avoiding tears and punctures, says the company.
The tire's E-4 depth tread gives articulated trucks and wheel loaders additional traction and high heat resistance, according to BKT. The tire's square shoulder helps it grip the ground, providing greater control and maneuverability.
The tire comes in 29.5 R 25 and 750/65 R 25 sizes
The tire joins the BKT's Earthmax OTR radial family, which is designed to operate in extreme and adverse situations.The tires also enhance load distribution on the ground, helping ensure operator comfort, safety and stability, says BKT.
The Earthmax family, launched in 2008, now has more than 20 different product lines with numerous models and sizes. The line is designed for jobsites, quarries and mines and specifically resists punctures, penetration and other damage to the casing.
The SR 412 launch follows the company's announcement of its prototype Earthmax SR 468, which will be the largest tire made by the company.
Last year, BKT showcased its EM 936 Super tire at ConExpo 2020, designed for excavators and telehandlers. Featuring an 8% to 10% increase in tread width, the tire enhanced stability and riding comfort, according to BKT. It also provides handling comfort and enhanced traction under heavy-duty service conditions.