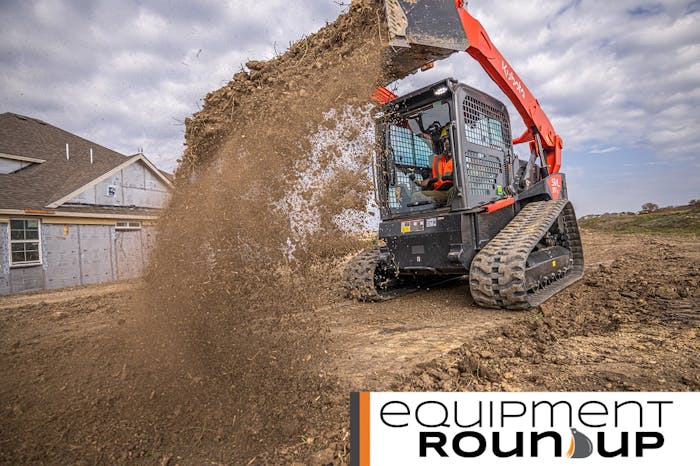 Kubota
---
This is the Equipment Roundup
Every week we collect the top construction equipment headlines you need to know about in one spot.
---
Video: Bobcat Loader Expert Explains Why S62, T62 Are "Total Package" | The Dirt #21
On the latest episode of The Dirt, we talk with Sarah Peckskamp of Bobcat about the two latest loaders in the company's R-Series generation lineup.
Like thier R-Series counterparts, the new S62 skid steer and T62 compact track loader feature a completely revamped design with improved durability, more lifting strength, a new engine, and a larger cooling system
To see the interview on these new loaders,
click here
.
---
Kubota's new SVL97-2 compact track loader is available now
Kubota says the new SVL97-2—the largest compact track loader the company offers—"sets the bar" for the rest of its CTL lineup.
The new model replaces the SVL95-2S and gets a slight horsepower boost in addition to several improvements to operator comfort.
To read more,
click here
.
---
Concrete Paver Market Heats Up as Contractors Turn to Roadbuilding
In our in-depth look at the concrete slipform paver market, we found that several manufacturers are seeing an industry-wide shift to roadbuilding among contractors looking to diversify their businesses in order to boost revenue.
In the report, we also take a look at deeper market trends and have tips for staying competitive and buying a first machine.
To read more,
click here
.
---
Break, Grab and Crush: 10 Attachments Designed to Demolish
From grapples to breakers, here are 10 attachments designed for demolishing everything from building interiors to reinforced concrete.
To read more,
click here
.
---
Tiny Engine, Tall Reach: New Skyjack SJ9664 RT Lift Reaches a Steep 7 Stories
The new SJ9664 RT is Skyjack's tallest rough-terrain model to date with a 70-foot reach.
But despite that huge height, we dig into why this new machine is really reaching for a middle ground.
To read more,
click here
.
---