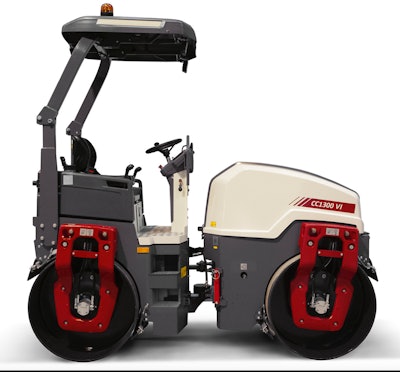 Dynapac has added a new asphalt compactor to its tandem vibratory roller lineup.
The 4.3-ton CC1300 VI follows the debut of the 4.75-ton CC1400 VI at ConExpo 2020.
The CC1300 has a roller width of 51 inches and is designed with a cross-mounted engine, the water tank at the rear of the machine and better operator views of the drums.
Customers can choose dual frequencies and dual amplitudes for different layer thickness. An optional asphalt temperature meter is available.
Other options include front right-mounted edge presser/edge cutter, dual front right and left edge presser/edge cutter, and rear-mounted chip spreader. The machine is also available in a combination version with four static rubber wheels at the rear and a drum in the front.
The operator platform was designed to be spacious and reduce vibration. The seat is available with weight adjustment, armrests and heating. A foldable canopy is another option. Levers have improved ergonomics, and the instrument panel has keypad buttons and a display of the important functions.
The 50-horsepower Kubota engine has an Eco mode for fuel efficiency and reduced emissions. Efficient eccentrics also help reduce fuel consumption and emissions.
The roller was designed to make service access easy. It was also designed with large casted forks with built-in lifting, towing and tie-down possibilities, the company says.