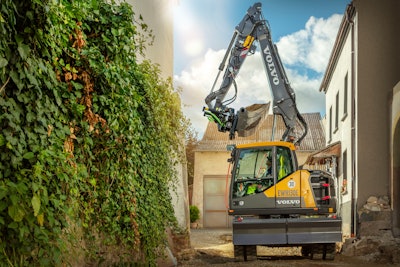 Volvo CE
Volvo Construction Equipment's new EWR130E gives both lift performance and digging force to a highly maneuverable machine.
The model is designed for a variety of jobsites, including urban jobs that require frequent roading, governmental projects and road work confined to one lane. Able to reach speeds of up to 22 mph, the EWR130E has a Boom Suspension System that engages at speeds above 3 mph to absorb shocks and reduce bouncing when hauling material over rough terrain.
Inline outriggers help position and stabilize the machine in tight spaces. Also adding to its stability is the machine's low center of gravity. A new divided blade option helps provide additional leveling on uneven ground or around curbs.
Volvo CE says the model has the shortest front and rear swing radius in the 12-to 13-ton size class: a rear swing of 5 feet 1 inch and a front swing of 5 feet 11 inches. 
The mobility and performance of wheeled excavators is adding to a growing demand for these machines in North America, says John Waldron, Volvo CE's product manager, wheeled excavators. The EWR130E is the ninth model in the company's wheeled excavator lineup. 
The standard two-piece boom can lift up to 9,480 pounds at a 19.7-foot reach. Powered by a 121-horsepower D4J Volvo engine, the EWR130E has a 24,392 pound-foot breakout force. 
The EWR130E with tow hitch can pull a trailer weighing 6,600 pounds; when fitted with additional overrun brakes it can pull 17,600 pounds. 
Visibility is enhanced by a low superstructure, counterweight and hood. Volvo says the machine has best-in-class visibility to the right, with no parts blocking the view. An optional Volvo Smart View uses three fame-mounted cameras to create a bird's eye view of the machine, visible on the cab monitor.
Also optional is the Volvo Dig Assist machine control system, which displays In-Field Design, 3D excavation software and new On-Board Weighing apps on the 10-inch Volvo Co-Pilot tablet.
Operators can program pressure and flow for up to 32 attachments.