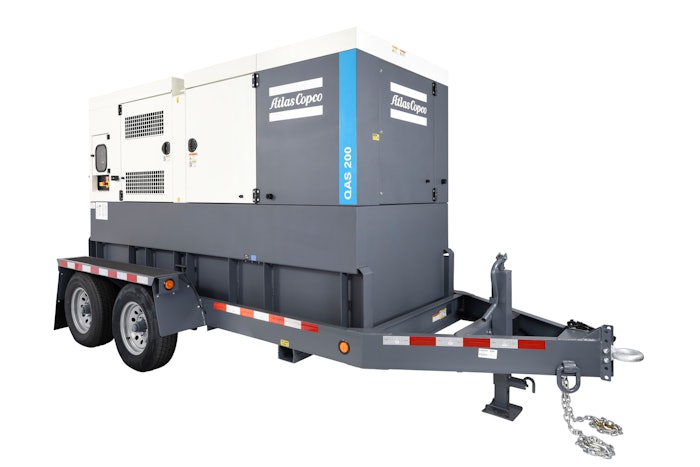 Atlas Copco Power Technique's new QAS 200 160-kilowatt generator can run 28 hours straight at 100 percent load, the company says.
The company has also updated its 120-kilowatt QAS 150, which can run 37 hours at full load.
Both generators achieve the longer run times with 335-gallon fuel tanks. They are powered by a John Deere Tier 4 Final diesel engine, with 257 horsepower on the QAS 200 and 215 hp on the QAS 150.
Atlas Copco says the generators' AREP alternator excitation system makes the engine quick and easy to start, delivering stable power in 6 seconds in all types of weather and conditions.
The canopy is weatherproof and resists corrosion. The integrated door sealing system keeps out water and reduces noise. Noise reduction is furthered by a variable-speed fan that also reduces fuel consumption and provides better performance in cold weather, the company says.
The generators are designed to be compact for easier transport. They come in skid- or trailer-mount versions.
Other features include a voltage switch for changing voltage quickly, "spillage-free frame," triple-stage air filtration with a safety cartridge and dual-stage fuel filtration.
The generators can be run parallel with other generators with the optional Power Management System. The system comes with a touchscreen display for running the multiple generators.
The company says the QAS line requires less than two hours of service for every 500-hour service interval.