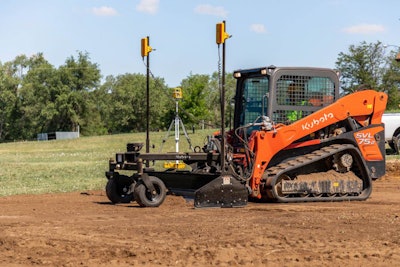 Kubota has launched a new series of grading box blades for its SSV skid steers and SVL compact track loaders through its Land Pride subsidiary.
The three models in the new series – the BB3072, BB3084 and BB3096 – can handle rough grading for landscaping and initial surface prep.
They can also be equipped with a third-party 2D laser system for more precise site prep and flatwork. Kubota says the dual-plane graders tilt and angle over the ground for precision grading. The company also offers an optional 82-inch mast assembly to control blade tilt and height when laser grading.
The box blades feature reversible, replaceable side cutters made of wear-resistant AR400 steel. They come in widths of 72, 84 and 96 inches, represented in the model numbers. They use a Universal Quick-Attach hitch system.