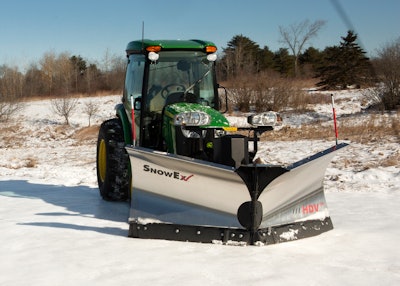 SnowEx is now offering Automatixx kits for attaching its snowplows to tractors.
The attachment kit is the company's response to increased demand for non-truck-mounted snowplows. Similar to the Automatixx designed for pickup trucks, the kit works with the company's heavy-duty straight blades, V-plows or winged plows and can be used on a variety of manufacturers' tractor models.
The power-assisted system is designed for quick, easy plow linkage from one side of the tractor through a removable push beam. The mount also does not have to be removed to reattach the tractor's loader system, the company says.