Selecting the best cold planer means not only knowing how you plan to use it but what jobs you plan to grow into.
Other considerations include ease of operation, the right technology, safety features, costs of ownership and, of course, productivity.
Manufacturers offer a variety of models to meet the range of uses for a cold planer, from parking lot jobs to highway mill-and-fill projects. We asked them to offer tips for small to mid-size contractors looking to add a cold planer to their fleet, along with some models they would recommend for the most common jobs.
What's it for?
Contractors sometimes find out the cold planer they've chosen isn't the best fit for the job, says Tom Chastain, Wirtgen milling product manager.
"There are all these different variables," he says. "You've got to find the right machine for the application."
For instance, a contractor might choose a center-mount drum yet realize later that a rear-mount machine would have provided the maneuverability in tight spaces they need. Then again, they may need a wider cutting width on a job, in which case, a larger center-mount machine might be the better option.
Another consideration is the size of the crew on the job. Noting that small to mid-size contractors won't have a lot of personnel to deploy, Kyle Hammon, Roadtec product manager, recommends focusing on ease of operation.
"They're not going to have a larger crew," he says. "…So it's important for the operator to have good visibility and be able to control the machine by himself for the most part."
Matt White, BOMAG North American sales manager for milling, sees mistakes made in choosing cold planer size. "For example, a contractor may feel a lower horsepower unit will meet all of his requirements, but with additional milling requirements and ever-changing specs, this may lead to lower production rates and cost the contractor," he says.
"On the flip side, if a contractor chooses a high horsepower machine but cannot support the machine with trucks or ancillary equipment, then this results in under-utilization of the machine's true capabilities."
He recommends working with a local dealer and the manufacturer's specialists to find the right fit. He also suggests renting a cold planer to "try before you buy."
Getting the most productivity out of your cold planer is also a crucial concern. For that reason, Caterpillar representatives Dave Peterson, market professional, and Jameson Smieja, sales support consultant, recommend automated grade and slope control. An accurate, easy-to-use grade control system is critical to the success of most milling jobs, they say. They also point out that operator comfort should be a determining factor when considering productivity, because a machine that is more comfortable and easier to operate makes for happier, more productive crews.
What's on the market?
Here's a look at some of the options on the market for small to mid-size contractors:
BOMAG
BOMAG's BM 1300/30, BM 1200/35 and BM 2200/60 are the company's most popular models with small to mid-size contractors, says White.
He cites these tracked cold planers' lower costs of operation and ownership and flexibility as reasons. "While these units can fit the bill for higher production jobsites, they are typically used for secondary roads, cleanup, patchwork and shoulder widening projects," he says.
Features on the machines include BOMAG's BMS 15 quick-change tool holder system. White says the BMS 15 provides longer operating life of the cutting tools, holding system and milling drum. It also requires 25 percent less time for changing cutting tools as for conventional systems and allows repairs in the field should there be damage from hidden objects while milling.
The BM 1200/35, with a max cutting width of 47.2 inches, has a class-leading 350-horsepower engine, White notes.
The BM 1300/30 has a max cutting width of 51.2 inches and a 280-horsepower engine. And the BM 2200/60 has an 86-inch max cutting width and a 600-horsepower engine.
All three models have a max cutting depth of 13 inches.
For contractors interested in moving into larger milling operations, White recommends the tracked BM 2200/75 – with an 86.6-inch cutting width, 771-horsepower engine and 76,831-pound operating weight.
CATERPILLAR
For small to mid-size contractors, Caterpillar recommends models with 39- to 51-inch cutting widths, such as the company's PM312.
Cat cites this size range's lower upfront purchase cost, easier transport and smaller overall size for maneuvering in tight areas than larger machines. The PM312 is geared toward utility work, repairs of small road sections, parking lots and municipal roads. It comes in tracked or wheeled versions and has a max cutting width of 4 feet and a 336-horsepower engine.
For contractors moving up in size, the company points to models with widths of 89 inches or more, such as the PM620, a half-lane milling machine that can perform full-depth removal of asphalt or concrete in a single pass. "However," the company adds, "they are a higher cost and thus preferred more by customers doing larger parking lots and highways, or that have plans to grow into those production-based applications in the future."
Cat says it made the controls for its cold planers and its Cat Grade system intuitive and easy to use, with automated functions. The grade and slope system can be seamlessly upgraded to 3D control. The canopy can be moved up and down while operating and is designed for increased visibility.
ROADTEC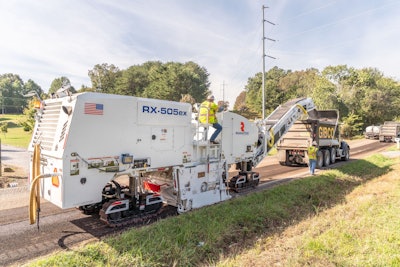 "The 4-foot size cut has been the most popular the last few years, and it's certainly a growing segment of that market," says Hammon. "Once you jump into that 4-foot size, you can still do the smaller projects, but you allow yourself the versatility of shoulder removal, off-ramps and portions of larger projects."
In the 4-foot range, Roadtec offers the RX-300e/ex, which has a 12-inch cutting depth. It is designed for commercial jobs and narrow milling projects. It runs on a 320-horsepower engine.
Look to the company to introduce a new machine in this category, which it was not ready to reveal at press time, as it phases out the RX-300.
Contractors ready to move up in size can go to the company's half-lane RX-505e/ex, which has cutting widths of 79 or 86 inches. It cuts as deep as 13 inches and runs on a 610-horsepower engine.
New on Roadtec's larger planers, such as the RX-505, is the company's Mill Maintenance Mode. The safety feature allows the cold planer's compressor to run, for powering a drill for removing cutting teeth, while simultaneously shutting down the cutter drum's drive to prevent it from moving. Roadtec has also introduced a new rear-object detection feature that will stop the machine from moving in reverse when it detects an object within a certain range.
WIRTGEN
Wirtgen's W 120 has been its most popular cold planer for small to mid-size contractors, says Chastain.
"It's a little bit smaller compact rear-mounted drum so you can get in those tight areas," he says.
The W 120 XTi and W 120 XFi have a max cutting width of 4 feet, but Wirtgen offers a variety of drums for added versatility. "So basically you take that compact machine and turn it into a 'Swiss Army knife,'" he says. "If they want a 2-foot-wide curb reveal, then you can put a 2-foot cutter in there to perform that. But when you go to a larger job where you need 4-foot patches, you go to a 4-foot drum."
He also recommends the company's W 150 CFi when a wider cut is needed. Cutting width can extend to 6 feet with this center-mount machine. The W 150 is Wirtgen's most powerful compact cold planer and is geared for major construction sites in restricted spaces, such as city streets.
All three models have a cutting depth of 13 inches. The W 120s run on a 345-horsepower engine, while the W 150 CFi has 400 horsepower.
The cold planers feature Wirtgen's Level Pro Plus for automatically maintaining the specified milling depth. Chastain also points to Wirtgen's HT22 quick-change tool-holder system, designed to minimize downtime and increase drum life.