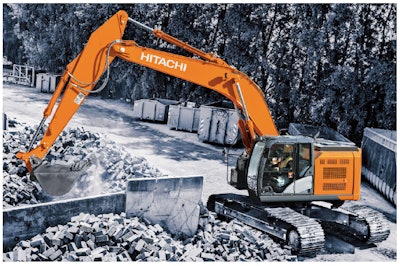 Hitachi Ltd. is considering selling half of its roughly 51 percent stake in Hitachi Construction Machinery (HCM), according to a report by Reuters and others.
In its Q2 report, HCM forecasted sales of $7.35 billion for the current fiscal year ending next March. Not included in the reported deal will be part of Hitachi Ltd.'s stake in construction equipment autonomous operation technologies, Reuters says.
This is not the first time reports have circulated about Hitachi Ltd. selling part or all of its interest in HCM. HCM issued a press release in March 2019, saying it had not hired a financial advisor to respond to a reported sale by Hitachi Ltd. of its stake in the company.
In the U.S., Hitachi Construction Machinery (HCM) operates as both Hitachi Construction Machinery-North America, offering excavators and rigid haul trucks, and Hitachi Construction Machinery Loaders America, known as Hitachi Loaders America, which sells wheel loaders.
For 32 years, John Deere and Hitachi Construction Machinery have had a 50/50 excavator and forestry equipment joint venture, which includes both manufacturing and distribution. Hitachi Loaders America developed out of HCM's 2015 purchase of KCM Corporation, which manufactured Kawasaki wheel loaders.