Whether it's moving rocks and debris, hacking through brush and trees, or removing stumps, these eight attachments will turn your excavator or loader into a landscaping machine.
Separate rock from soil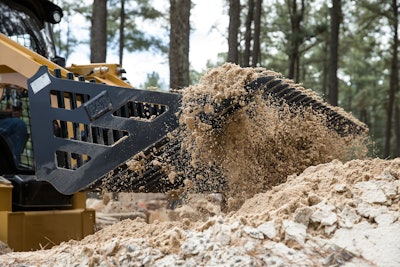 Caterpillar designed its line of Skeleton Buckets to separate rocks and large debris from soil and sand more directly than with a solid cutting edge. They can also be used for grading. The all-steel buckets come in widths of 79, 87 or 94 inches and are compatible with skid steers, compact track loaders, compact wheel loaders and multi-terrain loaders. Heavy rods that are 1.25 inches in diameter are placed on 3.75-inch centers to form the buckets' floor and back. The buckets feature thick plates with rectangular openings and steel gussets welded between the outermost rods in the bucket floor and the sides.
---
Tackle trees, brush, grass
The Kubota SC70 Skid Cutter is a 6-foot-wide heavy-duty attachment with a 7-inch cutting capacity for tackling small trees, shrubs, bushes and grass. Designed for Kubota's SVL95-2 compact track loader, the deck and side skirts are made of quarter-inch steel. The three-piece deck design has fewer weld points for added strength. Standard safety features include front and rear chains, a pusher bar, and a patent pending bi-fold door that covers the cutting chamber when not cutting in heavy brush. A case drain and motor pressure gauge are optional.
Sweep rocks and debris
Worksaver's SARG (Sweep Action Rock Grapple) for skid steer loaders is designed for handling rocks, brush, logs, stumps and debris. Two models are available – the SARG-72 at 72 inches wide and the SARG-84 at 84 inches wide. The front grapples provide 66 degrees of sweep for moving debris and rocks of various sizes into the bucket. The sweep clamp retains the rocks or debris in the bucket while the operator rocks the attachment to sift out the dirt. Grapples work independently of each other, moving like fingers, so the device can clamp uneven loads.
---
A rake for any dozer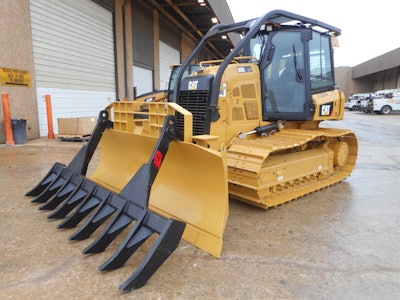 Solesbee's Blade-Mounted Dozer Rakes will fit nearly any dozer blade without customization, the company says. That's because the rakes have an extended upright with multiple holes to line up with the dozer blade when mounting. The company also provides all the pins and brackets needed for mounting. The rakes are made for land clearing, raking brush and piling trees and branches. They feature a C-curve design that rolls brush and debris, which the company says makes it easy to windrow material while minimizing the amount of dirt pushed with it.
---
Rip, pry, load stumps with one tool
Nye's Ultra Heavy Duty Stump Harvester can rip, pry, shake, split, crosscut and load. The company says it can split any stump that fits its jaws and harvest stumps in place. It can remove dirt and rocks from stumps before they are processed. The main cutting blade is situated on the operator's side for better visibility and control. The attachment is made of quenched and tempered alloy steel with hardened allow pins and bushings. The teeth are replaceable and the blade can be sharpened easily, the company says. The harvesters come in hydraulic and mechanical models.
Grade, rake, clean with one tool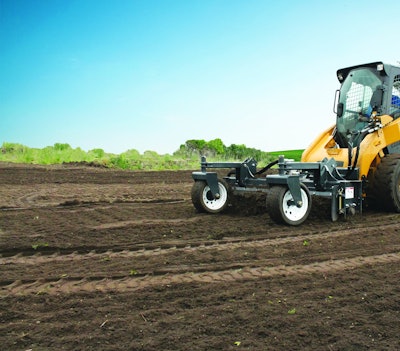 Virnig designed its Power Rake to grade, rake and remove debris. The attachment features a bi-directional drum that conditions the soil in both directions for quick seedbed preparation. It also achieves a smooth, even finish when raking because of the device's floating design, which keeps the rake level, the company says. The rake can be manually angled 25 degrees in either direction. A hydraulic angle is optional for changing the rake angle from the cab. The rake is available in sizes of 6 feet or 7.5 feet and has a recommended flow rate of 15 to 25 gallons per minute.
---
Dig cleaner holes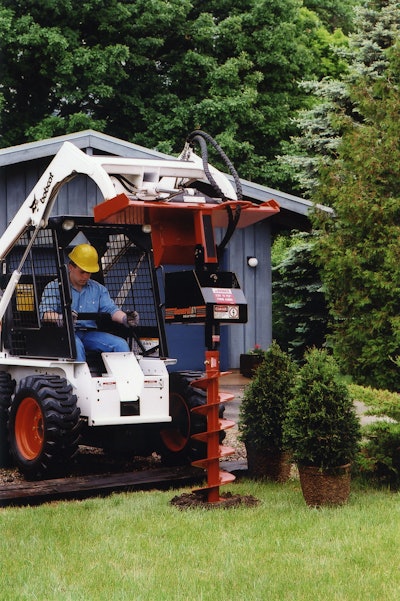 General Equipment designed its Dig-R-Tach drill attachments for small and large hydraulic systems. For smaller systems, the Series 16 balances lower flow volumes with auger diameters to dig cleaner holes with less loose soil and debris. It features a two-speed chain and a hydraulic flow range of 5 to 20 gallons per minute. It is compatible with skid steers, small excavators, knuckleboom cranes and small backhoes. For bigger jobs, the Series 24 is designed for excavators and backhoes and operates in a hydraulic flow range of 15 to 25 gallons per minute. It can deliver 2,018 foot-pounds of torque.
---
An alternative to stump grinding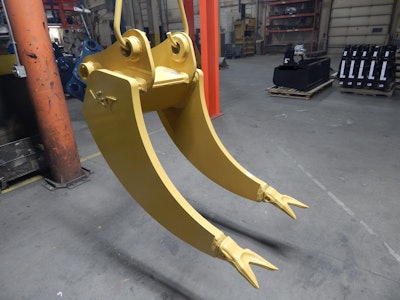 The new Wolverine Stump Ripper from Leading Edge Attachments is a faster alternative to stump grinding, allowing the operator to remove a stump without leaving grindings or remains that can cause sinkholes, the company says. Instead of grinding a stump, the Wolverine goes beneath it and cuts and rips the roots. When paired with a thumb, the device can pull out the stump, leaving behind only the roots. The stump can then be shaken and loaded. The Stump Ripper is designed for backhoes and excavators. It can be connected by pins or a quick coupler, the same as a bucket.