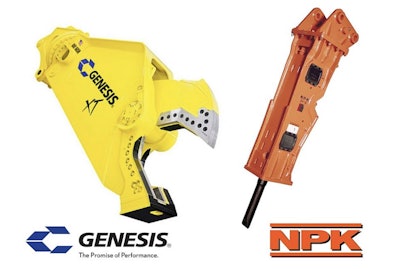 NPK Construction Equipment (NPKCE) has bought Genesis Attachments (USA), Genesis Holdings (Germany) and Genesis GmbH (Germany).
"Genesis has a great distribution network and an incredible group of dedicated employees," says Dan Tyrrell, NPKCE president, in a release. "The expertise, the experience, the culture and the company spirit of both businesses will benefit all our customers and dealers, both nationally and globally."
Founded in 1997, Genesis Attachments is based in Superior, Wisconsin, and has 117 U.S.-based employees manufacturing scrap processing, demolition and material handling attachments. In 2002, Genesis founded Genesis GmbH as its European licensee and exclusive sales partner.
NPK says it will leave the Genesis business model in tact, with plans to "continue improving the experience for our dealers and end users alike."
NPKCE's parent firm Nippon Pneumatic Mfg. was founded in Japan in the early part of the 20th century and has been manufacturing construction equipment attachments since the late 1950s. NPKCE, established in 1985 to provide distribution and product support for the Western Hemisphere, manufactures hydraulic hammers, crushers/pulverizers, sheers, pile drivers and pedestal boom systems.
Under a 2013 agreement, NPKCE also serves as as the exclusive distributor of Paus mining vehicles in the United States and Canada, leading to the creation of NPK Mining Equipment in 2018.