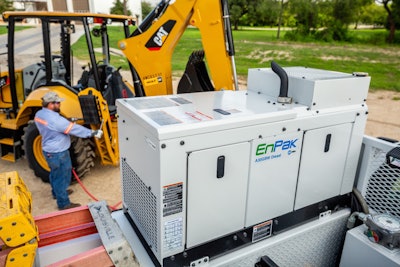 Tapping a truck's PTO for power and air is a convenient way to handles small jobs without the need for a dedicated machine. But when it comes to larger jobs, keeping the PTO spinning for hours at a time creates a lot of wear and tear on your truck.
Introduced at the Work Truck Show this year, the new Miller EnPak A30GBW Power System for work trucks runs off its own diesel engine (gasoline models to come in April) and provides compressed air, DC and AC power, battery charging, and welding capabilities for Class 3 to 5 trucks. The diesel engine option is a three-cylinder Kubota with 19 horsepower. The gas engine is a two cylinder, 23 horsepower Kohler.
Excessive idle time on any truck engine with an advanced emissions control system quickly builds up soot in the diesel particulate filter resulting in more regens and more frequent service intervals. Since the EnPak A30GBW's smaller engine doesn't rely on the truck's engine and PTO, it significantly reduces this maintenance headache and saves money on saving fuel and other maintenance costs.
The unit's rotary screw compressor delivers 30 cfm of compressed air, enough to power most air tools including ¾-inch impact wrenches. Electrical output includes 100 amps of DC power for 12/24-volt battery charging at idle and up to 150 amps of DC power for chassis battery support and 300 amps for crank assist. On the AC power side, a 6,500 watt generator (8,000 watt peak) puts up enough 120/240 volt power for all your jobsite needs. The inverter-based welder delivers 250 amps for MIG, DC TIG and stick welding.
The Miller EnPak A30GBW takes up little space in your truck bed, with a footprint of just 47-inches long, 20-inches wide and 28-inches tall. A remote panel allows you to work the controls when you're not on or next to the truck, and a CAN bus connection to your truck's telematics system enables you to monitor EnPak engine data, machine loads and use.