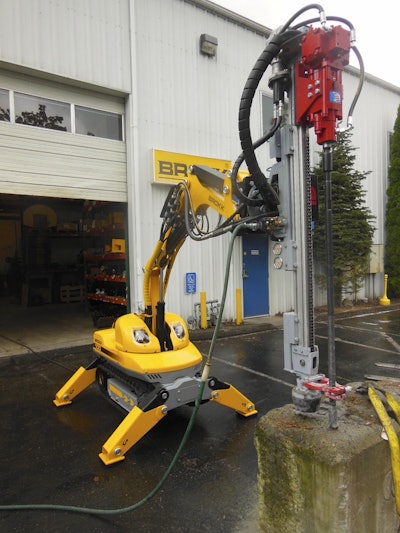 Brokk and TEI Rock Drills have teamed up to create a drill attachment for Brokk's demolition robots to ease operator fatigue and bring heavy-duty power to cramped spaces that typically require handheld tools.
The TE160 drill works with the Brokk 110 and Brokk 170 robots and is designed for concrete demolition, mining and tunneling applications. Brokk says the attachment eliminates the operator fatigue that comes from heavy handheld tools. It also improves drilling accuracy, and because operators can stand farther from the drill site, safety is improved as well, the company says.
"With a Brokk machine and the TE160 attachment, they (operators) can consistently drill to 20-foot depths while standing well out of harm's way," the company says.
The combination can also be used in tight spaces. For example, the 45-inch-tall Brokk 110 can work in areas with 6-foot height clearances. Its legs can be folded to a width of 31 inches.
The TE160 drill is 26 inches long, yet it can deliver 30 to 60 foot-pounds of impact energy at 5,000 to 6,500 blows per minute. It also produces 100 foot-pounds of torque and rotation speeds of 250 rpm.
The drill has been designed to be quieter than pneumatic handheld devices. And operators can use one remote control for both the Brokk and drill rather than separate controls for each device.