Boasting more efficient operation and more hitting power than its predecessor, Brokk has introduced its latest remote-controlled demolition machine, the Brokk 110.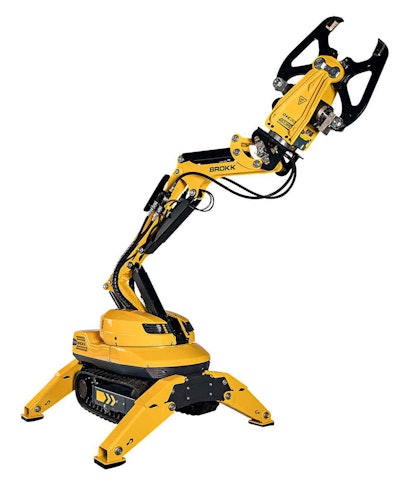 This electrically powered demolition machine features a 10-foot reach and weighs 2,183 pounds. At only 31 inches wide, the machine can fit through standard doors and inside passenger elevators. It packs 15 percent more power than the Brokk 100 it replaces and features the company's new electrical system which incorporates hardened components and fewer moving parts than the previous system.
"Brokk SmartPower optimizes performance based on a number of factors, including power supply quality and ambient temperature," the company explains. "The system can sense when a power supply is poor or faulty, making it suitable for generators or unreliable power supplies."
Brokk says the 110 is designed for "a variety of applications, from top-down demolition and interior strip-outs to selective concrete removal."
Brokk has also improved durability with the 110, including hardened parts, LED headlight protection and reinforced corners. The company has also coated parts in certain areas of the machine with a new steel gray color to add resistance to dirt and scratches.
The Brokk 110 is compatible with the same range of attachments available for the Brokk 100, including breakers, crushers, grapples, rock drills and shears.