John Deere has introduced new angle and pick-up brooms for skid steers and compact track loaders for cleaning turf, curbs and sidewalks, snow removal and other construction uses.
Deere also offers optional mounted water tanks for dust suppression to help contractors meet federal airborne silica regulations.
Pick-up brooms
The five new pick-up brooms – BP72C, BP84C, BR60C, BR72C and BR84C – are designed for tasks that involve dust suppression, as well as dealing with barriers such as curbs. Contractors can choose from a 25-gallon broom-mounted or a 30-gallon roof-mounted water-tank kit as options.
The pick-up brooms come in two versions: BP and BR.
BP models feature tool-free brush adjustment, a half-inch single-bevel cutting edge and a front caster wheel so the brush can follow ground contours. The baffles on the BP models can also be adjusted to add 22 percent more hopper capacity.
BR models use bolts for adjusting the brush. They also have a 0.625-inch double-bevel cutting edge. The front bumper on BR models is designed to add strength and protection when sweeping close to obstacles.
Both BP and BR models feature brushes with 50/50 poly-wire segments, which are designed for hard surfaces. All-polypropylene brush segments are available as an option for softer surfaces. The brush is 26 inches in diameter. An optional 20-inch gutter brush can be mounted on either side for picking up material close to curbs.
Angle brooms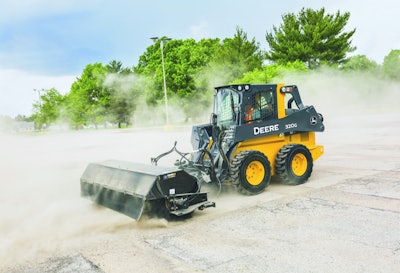 The three new angle brooms – BA72C, BA84C and BA96C – are ideal for turf cleaning and snow removal, Deere says. A 30-gallon roof-mounted water tank is available for dust suppression.
The brooms can move at a 30-degree angle left or right. An optional hood extension provides 180-degree brush coverage and has a rubber deflector to keep snow from blowing back into the machine.
The brush is 32 inches in diameter and comes standard with 50/50 poly-wire segments and optional all-polypropylene segments. The brush can be removed for bristle replacement without tools. A foldaway storage stand helps the brush maintain its round shape when not in use, the company says.
Broom motor
Both the angle and pick-up brooms are powered by a high-torque, bidirectional motor. The motor is attached to the brush core with a 2.5-inch hex hub.
The motor and bearing are protected within the boom-frame structure, and the motor and bearing can be disconnected from the brush core without having to disconnect hydraulic hoses, Deere says.
The attachments also feature Deere's Quik-Tatch system for switching attachments. The brushes operate on Deere's and competitors' skid steers and compact track loaders.
Quick Specs
Model Sweeping Width Operating Weight No. of Wafers
BA72C Angle 72 inches 910 pounds 35
BA84C Angle 84 inches 960 pounds 41
BA96C Angle 96 inches 1,010 pounds 47
BP72C Pick-Up 72 inches 1,275 pounds 41
BP84C Pick-Up 84 inches 1,400 pounds 49
BR60C Pick-Up 60 inches 880 pounds 33
BR72C Pick-Up 72 inches 970 pounds 41
BR84C Pick-Up 84 inches 1,090 pounds 49