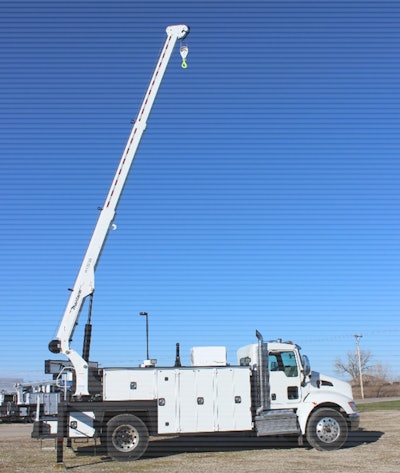 Iowa-based Maintainer has announced the introduction of a new 30-foot hydraulic model to its lineup of work truck cranes.
The H10030 telescopic crane has a max lift capacity of 10,000 pounds with a 60,000 foot-pound crane rating.
Tom Wibben, director of sales and service at Maintainer, says the H10030 fills a gap in the company's truck crane line.
"The H10030 gives a longer reach to those who need more than our 25-foot offerings, but is not as much crane as the H10034," says Wibben.
The crane is designed with long life and easy maintenance in mind. Maintainer says the H10030's hexagonal boom sections are self-aligning, have an improved strength-to-weight ratio, and have easily-serviced wear pads. Wear resistance, corrosion resistance and seal life have all improved on the crane's nitrided cylinder rods. Protection is provided for the crane's hydraulic hoses, as well as the crane and outrigger valves beneath the truck body.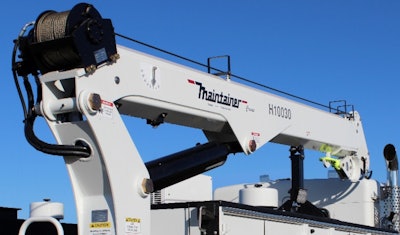 Here's a rundown of the crane's full feature set:
Low profile boom – no need for flip sheave
Tall & Short Tower configurations
Advanced Crane Control standard
Total operational range 91° (-13° to +78°)
OSHA 1910.180/ANSI B30.5 compliant
Low Profile Anti-Two block
Closed-center/load sensing hydraulic system (open center optional)
615° of boom rotation
Wireless Remote with independently proportional controls