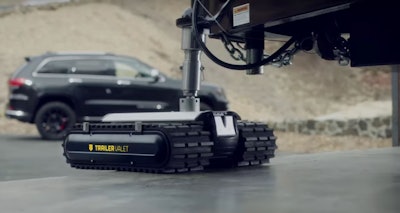 Just in case Google's new AI that can call restaurants and make reservations for you wasn't enough, here's a bit more proof that we are indeed living in the future.
The adorable robot you see in the video below that looks like a Roomba on steroids is called the RVR, the latest invention from the folks at trailer dolly manufacturer Trailer Valet.
The RVR is a motorized, remote-controlled trailering robot that can haul up to 9,000 pounds. Of course, the point of this thing is not long-distance hauling. It's meant to make shuffling trailers, RVs and boats around the shop, yard and garage a hell of a lot easier than dealing with the extra length and other considerations of tacking a truck on the front end of whatever you're moving.
With the remote control, Trailer Valet says you can operate the RVR from up to 40 feet away, allowing you to park your trailers without a spotter. Plus it has a 360-degree range of motion so it can pull off precise movements in tight spaces, like so: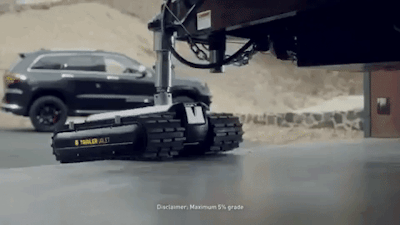 Equipped with treads and powered by four planetary gear motors, the RVR can haul on just about any terrain you throw at it, even up inclines.
Three models of the RVR are available, the $2,100 RVR3, which can haul up to 3,500 pounds; the $3,400 RVR5, which can haul up to 5,500 pounds; and the $4,100 RVR9, which hauls up to 9,000 pounds.