Caterpillar designed its new hydraulic hammers to be reliable and easy to use, the company says.
The new B4 and B6 hammers also come in silent versions, B4S and B6S, and can be used on skid steers, multi-terrain loaders, compact track loaders, compact excavators and backhoes ranging from 5,600 to 12,000 pounds. Their uses include such construction and light demolition tasks as site prep, landscaping, masonry and concrete breaking.
They are designed with two moving parts in the piston and valve. Flat-top mounting provides a compact working envelope and compatibility with a variety of brackets to suit coupler, linkage kinematics or machine size. The hammers were also designed to be easily maintained, with the ability to check points for grease fittings and gas pressure while the hammer is on the carrier. The bushings can be replaced in the field, and the lower bushing can be rotated 90 degrees for improved wear performance.
The company says it used quality materials and processes for the cylinder, back-head, front-head, piston and tool, and the heavy-duty housing prevents breakage and wear.
The gas-fired operation cycle delivers consistent, long-term high production, according to Caterpillar.
The piston is designed for maximum energy transfer, sending long shock waves into material and providing superior oil retention and seal life. The inward-type oil-control valve has high structural integrity and a low failure rate, the company says.
The mounting brackets are interchangeable between H- and B-prefix models. Tool types for the hammers include moil, cone, parallel and transverse chisel, and blunt.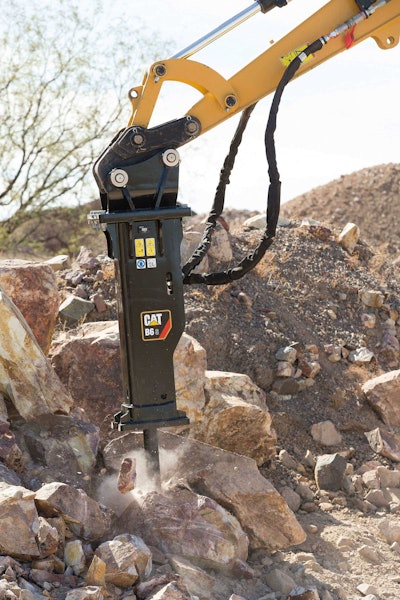 Specifications for the hammers are as follows:
B4/B4S B6/B6S
5,600 – 7,000 lbs. 8,000 – 12,000 lbs. Carrier weight
273 ft.-lbs. 502 ft.-lbs. Energy class
600 – 1,000 500 – 900 Blows per minute
7 – 13 gpm 11 – 19 gpm. Hydraulic flow