At the recent Intermat show in Paris, Wacker Neuson showcased its new AP1850e vibratory plate, featuring a unique and innovative battery concept.
The company calls the single-direction vibratory plate an ideal machine for compacting granular surfaces and asphalt. And when it's time for trenching, because the plate's interchangeable battery modules can be removed, they can also be used in Wacker Neuson's battery-powered rammers, making this model even more flexible and cost effective.
The AP1850e is available now from all Wacker Neuson sales partners. They feature easy push-button starting rather than pull starts and also zero emissions, making them ideal for narrow trenches and confined spaces.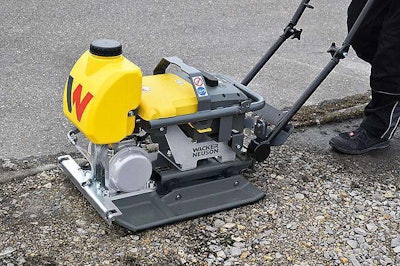 Wacker Neuson says because cities have more confined space, contractors need smaller machines – a need that the company aims to fill. The company is growing fast in the Americas, the source of 23 percent of the group's revenues.
There are more than 12,400 dealer sites globally and more than 5,500 employees.
"We want to grow two times faster than the rest of the market is growing," says CEO Martin Lehner, adding this will be possible if the Wacker Neuson Group has the innovations and more to offer customers than does the competition.