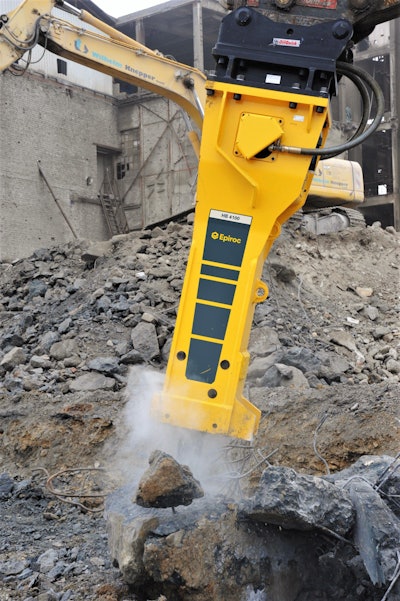 Atlas Copco's Epiroc brand of attachments has introduced new technology that the company says makes its hydraulic breakers simpler and cheaper to operate and more efficient.
Six of the company's breaker models are now equipped with the new Intelligent Protection System (IPS). IPS combines Epiroc's AutoControl and StartSelect functions into one automated system that can adapt the breaker's operating behavior to the working conditions.
The best way to think about this IPS system is to imagine it as a bridge and to think of the StartSelect functionality as two pieces of land separated by water. The first shore is AutoStart, which allows for easier positioning at the beginning of a breaking cycle, and the shore across the water is AutoStop, which stops the breaker automatically to avoid blank firing at the end of a cycle.
On past breakers with StartSelect, operators had to manually switch between AutoStart and AutoStop. But IPS bridges these two smart breaker functions with by sensing the progress of the cycle through AutoControl.
AutoControl optimizes breaker performance while the attachment chisels away by automatically adjusting the piston stroke length based on the tool's progress through the material. Once breaker operation has begun in AutoStart mode, AutoControl switches the length of the piston stroke short stokes to longer ones when it senses the contact pressure between chisel and material increasing. When IPS senses that the breaker cycle is just about through, it switches the breaker into AutoStop mode. Once the chisel breaks through the material, the breaker is able to automatically shut off.
Epiroc says the system eliminates work interruptions, increases uptime and operator comfort and allows for faster and more accurate breaker positioning.
Epiroc's HB 2000, HB 2500, HB 3100, HB 3600, HB 4100 and HB 4700 are now equipped with IPS. Epiroc says the rest of its heavy hydraulic breakers will be equipped with the system by the end of 2018.