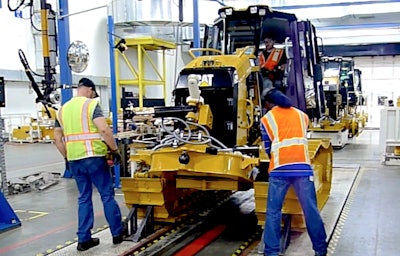 The equipment manufacturing industry "is profoundly disappointed at President Trump's actions" on Thursday to advance import tariffs on steel and aluminum, says Dennis Slater, president of the Association of Equipment Manufacturers.
Trump initially exempted Canada and Mexico from the import tariffs, which are take effect in two weeks. He cited "national security" in two proclamations that he signed March 8.
"This relief will help our domestic steel industry to revive idled facilities, open closed mills, preserve necessary skills by hiring new steel workers, and maintain or increase production, which will reduce our nation's need to rely on foreign producers for steel and ensure that domestic producers can continue to supply all the steel necessary for critical industries and national defense," Trump says.
"Under current circumstances, this tariff is necessary and appropriate to address the threat that imports of steel articles pose to the national security."
Slater reacted in a written statement:
"These 'Trump Tariffs' will put U.S. equipment manufacturers at a competitive disadvantage, risk undoing the strides our economy has made due to tax reform, and ultimately pose a threat to American workers' jobs.
"Steel accounts for roughly 10 percent of equipment manufacturers' direct costs. The price of steel has already risen in anticipation of the administration's actions, and a 25-percent tariff will only further erode the progress our industry has made over the past year."
AEM leaders and staff members have been talking with many of its members about the impact of the tariff, and "this hits us on many levels," according to Slater in an Equipment World interview at World of Asphalt in Houston.
"First, for the manufacturers, that 10-percent cost is now going to have a 25-percent tariff on it. So, to make a machine in the U.S. is going to be more expensive, which could hurt sales here in the U.S. Their foreign competitors don't have that same tariff suddenly on their actual cost. It makes U.S. companies less competitive in their own country.
"And then you add on that the export business, so suddenly that U.S. manufacturer trying to ship overseas – which is one third of their business – is suddenly less competitive overseas."
With the impact on all levels, a major concern is how this will ripple down to affect American workers, Slater says.
"These companies will get by, and they'll make adjustments, but they can't pass all these costs on. So, they make less money. They sell fewer machines. In the end, the U.S. worker gets hurt. They're the ones who get laid off. So here we are, doing something we say is helping the American worker, and I think what we're doing is actually hurting the American worker."
Slater voiced concern for retaliation in a trade war that could hurt U.S. exports of corn, soybeans, beef and other commodities.
"Suddenly the farmers' biggest market for exports is gone and they're not going to buy more machines. Now, we're going to lose (equipment) sales on the agricultural side for that, too. This hits us on four different fronts here."
Slater, who has been outspoken over the tariffs since the president's March 1 announcement of his plan, says he's worked in this business for more than 30 years "and never had a more overwhelming level of support nor higher level alarm from members. They're saying that 'we've got to weigh in on this because this is detrimental to our industry.'"
He adds that the equipment manufacturing industry will work to convey the negative impacts of these tariffs directly to the Trump administration and members of Congress. The CEO of Terex is also urging that company's customers to do the same.
Terex CEO expresses regrets over new tariff surcharge
As Trump was poised to finalize his plan, Terex Corp. was notifying customers that the company will be forced to assess a surcharge due to the tariffs.
"Steel prices have been rising steadily for several months, and this action drove prices even higher, reaching heights not seen in many years," Terex president and CEO John Garrison wrote in a March 6 letter to customers.
"The longer-term impact of the trade action is uncertain, but the inflationary impact on steel prices and related components is already increasing our product cost."
Garrison wrote that while Terex would like to protect customers from the adverse impacts of rising costs, "unfortunately, the impact of the rising cost of steel is too large and too sudden for us to absorb.
"Given the uncertain nature of these market dynamics, we are not increasing our base prices. Instead, we will be adding a steel cost surcharge on our equipment. The surcharge will cover a portion of our cost increases – and will remain separate and transparent from our base prices."
Garrison expressed the company's regret at having to take this action.
"As a global manufacturer, we value free and fair markets and see the imposition of these tariffs as a significant source of friction in the global economy," Garrison wrote to customers. "It is particularly frustrating to have these added costs imposed now, creating unnecessary headwinds at a time when markets are trending favorably."
Details of the surcharge are still being finalized. Each business segment will announce its own surcharge. Terex AWP (which includes the Genie brand) is currently working on those communications and will make them available to the public on March 14, a company spokeswoman tells Equipment World.