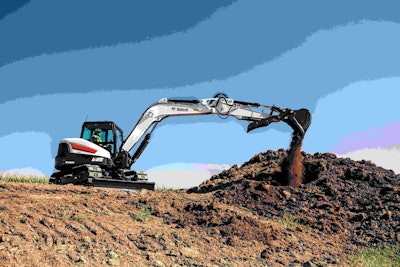 Bobcat has unveiled the latest version of its largest compact excavator, the 8.5-ton E85, which is part of the company's R-Series lineup.
Its 66-horsepower Bobcat turbo-charged diesel engine does not require a diesel particulate filter or selective catalytic reduction.
It is designed to work in tight spaces with 13 inches of tail overhang, and the boom frame stays within the width of the tracks as it swings. Bobcat also added a standard lift eye to help operators lift and place objects. An optional depth-check system allows the operator to measure depth and grade, within a half-inch of accuracy, without exiting the excavator. The system minimizes over- or under-digging, and it does not require a separate display screen, the company says.
The new E85 boasts a bucket digging force of 16,269 lb.-ft., a 12 percent improvement over the previous generation machine. Arm digging force is 8,253 lb.-ft. and lift capacity is 9,754 pounds.
The cab has been redesigned with more floor space. Travel pedals fold away. The top window, narrower side pillars, left and right mirrors and new sun visor are designed to improve visibility. A new tubular-frame reinforced cab door is designed to keep out dust and dirt, and the cab is rate at Level 1 falling object protection. Automatic heating and air conditioning and a heated seat are optional.
An easy-to-reach control pattern selector is standard. Operators can quickly switch from ISO controls to standard controls and toggle between an optional second auxiliary hydraulic switch and the boom offset from the left joystick.
Bobcat says the excavator provides easy access to the engine for maintenance, and the company strengthened hinges and latches and added rigid, aligned panels to reduce cab vibration. Greasing intervals have been extended to 50 hours for the swing and slew and to 250 hours on upper work-group pivot points, the company says.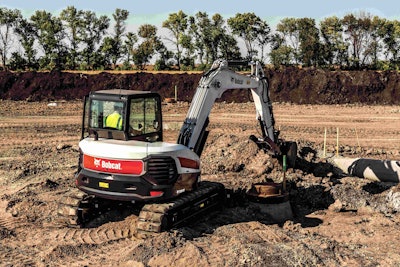 Optional features
The E85 offers a variety of options:
Hydraulic pin-grabber quick coupler accessory to change attachments from the cab
Secondary auxiliary hydraulics to operate attachments with multiple capabilities
Deluxe instrumentation panel for fast access to critical machine information
Factory-installed steel tracks and segmented tracks
Travel alarm to meet localized jobsite requirements
Rear work light kit
Counterweight to boost lifting capabilities
Guard kits for the front and top windows to elevate the cab to a Level 2 FOPS rating from Level 1
Keyless start
Radio kit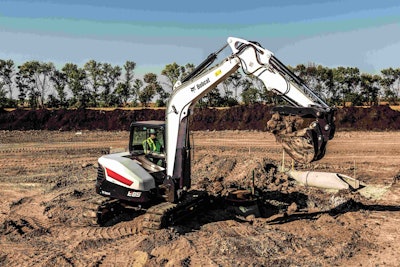 Handles variety of attachments
The following Bobcat attachments can be operated with the E85:
Trenching buckets: 18, 24 and 36 inches
Grading buckets: 48 and 60 inches
Tilt-grading bucket: 48 inches
Hydraulic clamp
Hydraulic breaker
Flail mower
Auger
Plate compactor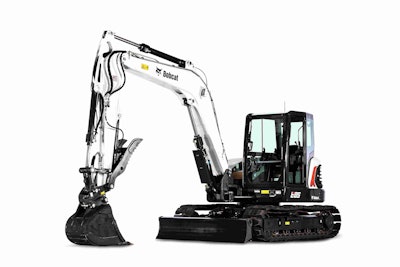 Quick Specs
Operating weight: 18,977 pounds
Bucket digging force: 16,269 pound-feet
Arm digging force: 8,253 pound-feet
Rated lift capacity: 9,754 pounds
Maximum reach at ground level: 23 feet, 7 inches
Maximum dig depth: 15 feet, 5 inches
Maximum dump height: 16 feet, 7 inches
Width: 87 inches
Auxiliary hydraulic flow: 25.1 gallons per minute