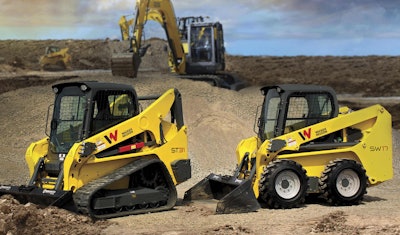 The compact equipment warranty wars have heated up, with Wacker Neuson coming to the table with what it calls the "most comprehensive warranty in the industry."
Wacker Neuson is the third compact equipment manufacturer in the past three months to debut an extended standard warranty, announcing a 3 year, or 3,000 hours full-machine warranty. The 3-year terms are available on all new and used skid steers and compact track loaders manufactured in the firm's Wisconsin plant and sold in the United States and Canada after October 1, 2016.
The 3-year full-machine warranty is part of what Wacker Neuson is calling its 3-4-5 warranty package that includes:
A 4-year or 4,000-hour powertrain warranty, which includes but is not limited to engine, hydrostatics and axles, and
A 5-year or 5,000-hour electrical system warranty, which includes but is not limited to switches, electronic joysticks, instrument, display, indicators and wiring harness.
"Regardless of whether the customer buys the machine new or used, they can have comfort knowing that is is backed by the best warranty in the industry," says Brent Coffey, Wacker Neuson product manager for loaders. According to Coffey, the transferrable warranty is designed to extend over multiple owners, leading to increased residual value over the life of the machine.
The action follows recent 2-year, 2,000-hour full-machine warranty announcements on select new compact equipment by Caterpillar and Case Construction Equipment. Case said in November it would extended its standard full-machine warranty on skid steers and CTLs up from its previous 1-year, 1,000-hour warranty. In January, Caterpillar laid out a 2-year/2,000-hour warranty for its new skid steer loaders, CTLs, multi-terrain loaders and compact excavators purchased after January 1st. Cat's previous warranty for these machines was 1-year, unlimited hours.