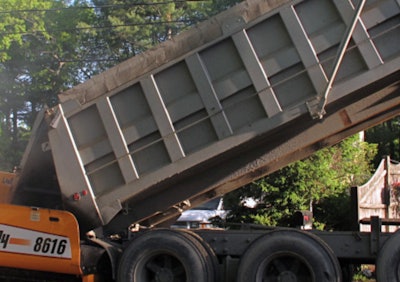 Truck drivers hauling asphalt "and related materials and equipment" have been granted two hours-of-service exemptions by the Federal Motor Carriers Safety Administration.
The FMCSA is lifting the requirement on asphalt haulers to take a mandatory 30-minute break each work day. Instead, according to a National Asphalt Pavement Association press release, these truck drivers will be able to use on-duty "waiting time" to meet the 30-minute break requirement.
The second exemption extends the maximum allowable on-duty time from 12 hours to 14 hours for drivers covered under the existing short-haul exemption, according to the release.
The exemption goes into effect upon today's publication in the Federal Register and will remain valid for five years.
The decision to grant these exemptions is the result of an application filed to the FMCSA by the NAPA in the fall of 2017.
In explaining these requests back in September, NAPA said asphalt is a "very perishable" product that hardens within two hours of being loaded into a truck, and drivers only typically drive for approximately one-third of their work day. Other time is spent waiting to load or unload, doing paperwork or cleaning their trucks after each load.
As far as the second exemption, NAPA said some of its member's drivers are required to be on-duty longer than 12 hours per day and aren't eligible for the short-haul exemption. The group said because the drivers are only driving a few hours each day, they do not face the same fatigue factors as long-haul truckers.
"We are grateful FMCSA saw the need to exempt drivers associated with asphalt paving operations from these hours of service regulations," said NAPA Chairman and COO of Gallagher Asphalt in Thornton, Illinois. "This allows us to ensure drivers are able to work as needed to deliver a quality product when it is needed."