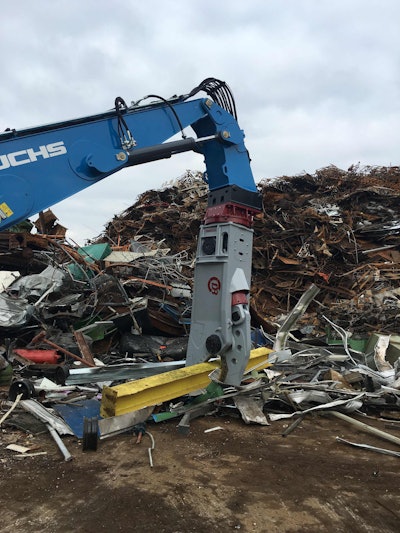 Kinshofer has designed its new DXS-50 hydraulic mobile excavator shears to work faster and more efficiently at a lighter weight.
The DXS-50 is the debut attachment for the company's new DXS Series. Its DemaPower cylinder technology consists of four chambers instead of two, giving the smaller attachment the ability to exert 25 percent more power and achieve best-in-class power-to-weight ratio, the company says.
The DXS-50 weighs 9,920 pounds and has a closing force of 1,203 tons. Though weighing just 880 pounds more than its predecessor, the DRS-45, the new shears provide nearly 300 tons more closing force. The jaw on the DXS-50 opens 29.2 inches wide and 30.7 inches deep — larger than any other shear in its weight class, the company says. The jaw also has faster closing and opening speeds, with a 5.5-second cycle time that is 50 percent faster than models in its weight class, according to Kinshofer.
The DXS-50 also consumes 20 percent less fuel than competitive models, the company says, as it can function as well as in economy mode as others can at full throttle.
The attachment is ideal for demolition, scrap processing and tire recycling, the company says. It is made for excavators of 25 to 35 tons when boom mounted and 32- to 50-ton machines when stick mounted.
It also features convenient service openings to shear hoses and hydraulics, a piercing tip that can be welded again and replaced, and no protruding components that can be damaged.
Models with continuous 360-degree rotation are available. They come with heavy-duty motors for higher torque rotation and an oversized slewing ring to bear high forces, shock loads and bending.