John Deere has introduced three new roll-out buckets to its Worksite Pro attachment lineup, designed for use on skid steers, compact track loaders and compact wheel loaders.
The buckets (model numbers RB72, RB84 and RB96) provide an additional 34 inches of dump reach when fully extended by using the machine's auxiliary hydraulics to roll out and dump material, Deere says.
And rather than require the machine hinge pin to raised higher than the hopper for dumping, these buckets pivot near their cutting edge for the additional height.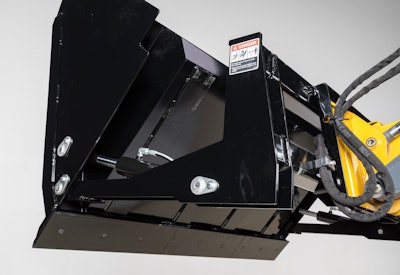 "From loading tall Total Mixed Ration mixers in ag applications or elevated truck beds, our new roll-out buckets allow customers to lift higher and get more done in a workday," Jessica Hill, program manager for global attachments at John Deere says in a statement. "Our unique hydraulic design is ideal for customers loading light materials when a machine's lift height is limited."
The buckets boast 114 degrees of roll-out and are available in widths of 72 inches, 84 inches and 96 inches.
Deere's Quik-Tatch system allows operators to switch between the roll-out buckets and other attachments within seconds.