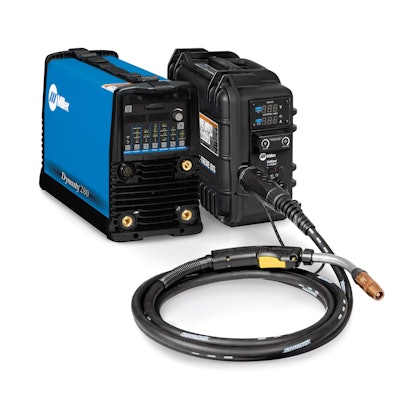 Miller Electric Manufacturing has released a new portable welder, the Dynasty 280 DX with CV, that weighs 55 pounds and can perform a range of tasks.
It delivers up to 280 amps. And when faced with dirty or unreliable power, its Auto-Line accommodates any voltage hookup from 208 to 575 volts with no manual linking.
Its Blue Lightning high-frequency arc starter provides non-contact arc initiation, which the company says results in more consistent arc starts than traditional high-frequency arc starters. The welder uses high frequency only when starting, to eliminate HF interference during operations.
Operators can TIG weld .012 to 3/8-inch aluminum and .004 to 3/8-inch steel, and also TIG weld with AC waveforms, including advanced square wave, soft square wave, sine wave and triangular wave.
MIG welding can be performed when pairing the CV output with a SuitCase X-Treme voltage-sensing feeder, which runs on the arc voltage of the power source.
The welder operates by all-digital controls, allowing for precision adjustments, the company says. Operators can also set weld parameters with the machine's Pro-Set feature.
Miller says the welder can perform a variety of tasks on construction jobsites, as well as precision fabrication, heavy fabrication, pipe and tube fabrication, and maintenance and repair.