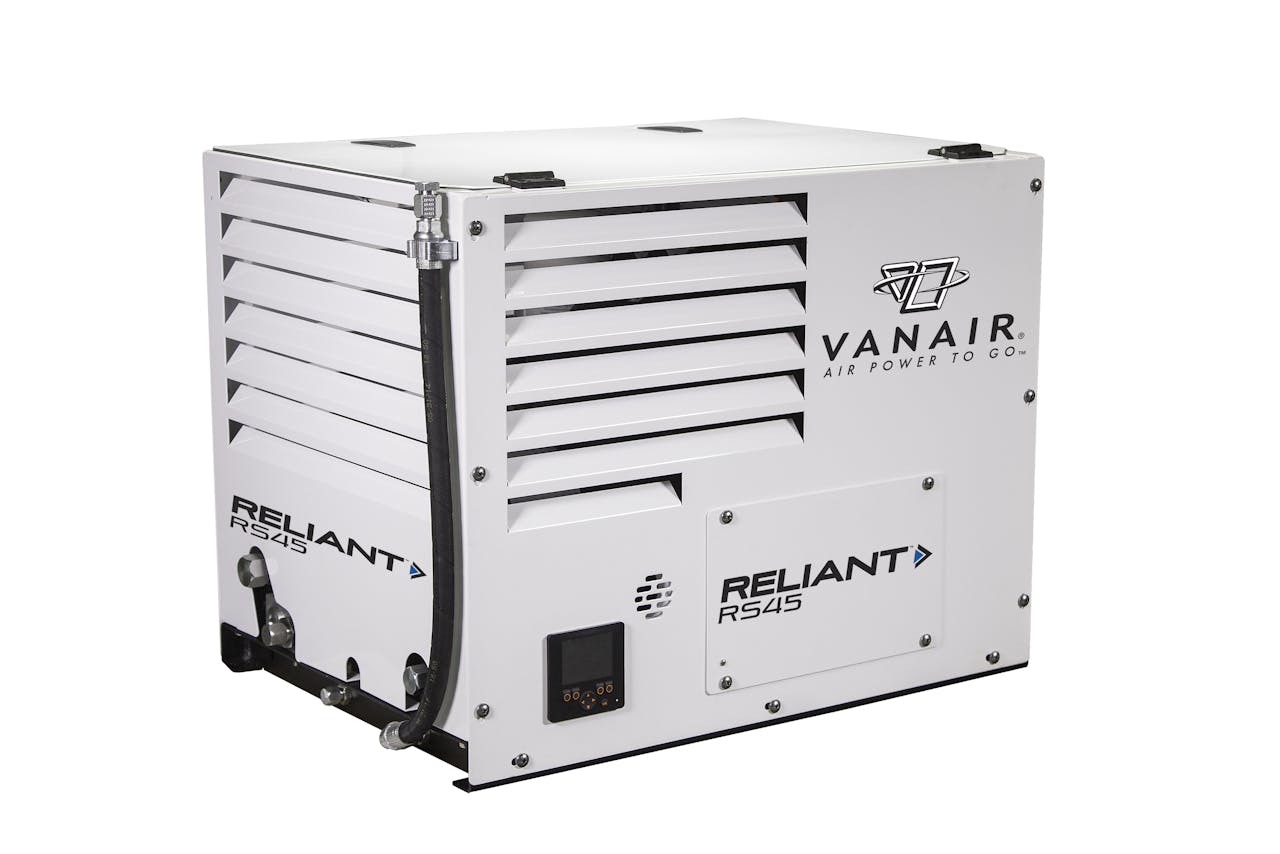 Vanair recently unveiled a variety of new products including lightweight hydraulically driven and rotary-screw air compressors.
RS45, RS85 air compressors
The company touts its new Reliant RS45 as 55 percent lighter than its predecessor and having the highest cubic-feet-per-minute rating in its class. It also says it cut the weight of its Reliant RS85 in half while delivering 40 percent more power.
Both hydraulically driven compressors' canopies are made of aluminum, which prevents rust and helps reduce weight and fuel consumption.
The RS45 delivers up to 45 cubic feet per minute of air power and 150 pounds per square inch of pressure on demand at 100 percent of duty cycle.
The RS85, which weighs 238 pounds, delivers 85 cubic feet per minute of air power. The company says that's enough to operate a 90-pound jackhammer, a 4-inch piercing tool, a 1 1/2-inch impact wrench and to assist in air gouging. Vanair also designed the RS85 to take up less truck space.
Both machines are designed for quieter operation. The RS85 has an on-off button LED control panel.
'Featherweight' VRS-E85
Vanair says its new VRS-E85 is the first aluminum, lightweight, encapsulated air compressor. The oil-flooded, rotary-screw compressor encapsulates the coalescing tank and integrates the main parts of the system on a single unit, the company says.
It weighs 75 pounds, delivers 40 to 85 cubic feet per minute of air power and 175 pounds per square inch of pressure. The system can be direct-driven, belt-driven or hydraulically driven.
Tier 4 Final Utility Mount Air Compressors
Vanair also released a new line of utility-mount, rotary-screw air compressors with Tier 4 Final engines. The machines come in 185 cfm, 210 cfm and 250 cfm sizes. They are typically cross-mounted along the bulkhead of the vehicle body. Features include a waterproof eye level, curbside digital control panel and a corrosion-resistant canopy with fork pockets and a balanced single point lifting bail.