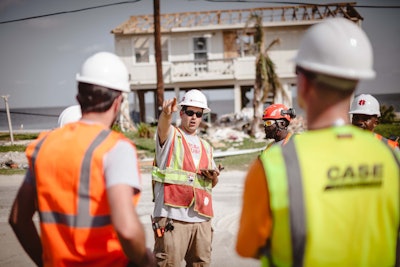 The nonprofit Team Rubicon, a group of volunteer military veterans that provides disaster response, is getting some help from Case Construction Equipment in its emergency recovery efforts for Hurricane Harvey victims.
Case has been providing heavy equipment and onsite support in Texas since September 14 for Team Rubicon, which deployed 768 volunteers to the state. The team is removing debris and demolishing storm-damaged homes near Rockport and Aransas Pass, where Harvey's eye made landfall in August. It also conducts damage assessments, cleans out and repairs homes, and chainsaws downed trees.
The team is also getting assistance from Sonsray Machinery of California, which shipped in compact track loaders, and Michelin North America, which donated sets of Tweel airless radial tires for skid steers being used for demolition. Nueces Power Equipment of Corpus Christi is providing equipment support for the Rockport operations.
Team Rubicon was created to train disaster-response volunteers to operate heavy equipment. Case has been supporting the program since its inception in 2015 by providing training and equipment. Rubicon is also deploying volunteers to Florida in response to Hurricane Irma damage and plans to bring in more heavy equipment as needed. To learn more about the organization and how you can help, go to TeamRubiconUSA.org.