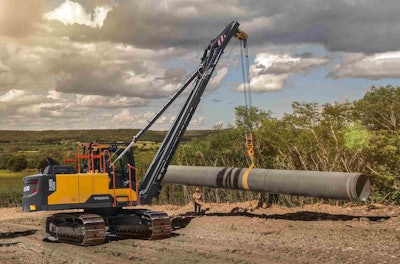 Volvo CE calls its new PL3005E the "most productive pipelayer" the heavy equipment maker has ever offered in its size class, citing lifting, power, torque and fuel efficiency increases in the new model.
Powered by a Tier 4 Final Volvo D8J engine, the PL3005E has a 55-ton tipping capacity. The machine's design is excavator-based and with an optional kit can actually be converted between pipelayer and excavator configurations. Volvo says the conversion can be done in about 2.5 hours. The PL3005E features hydraulics engineered for both pipe laying and digging applications, ensuring no power is lost when you go between configurations.
Volvo pipelayer manager John Duff calls the PL3005E "a perfect fit for medium-sized pipe projects in the 12- to 24-inch diameter range." Duff says the machine is "more versatile and productive than a traditional dozer-style pipelayer" due to the excavator-based design and 360-degree swing ability.
With 360 degrees of swing, Volvo says operators can place large pipes "anywhere around the machine with ease." The machine can work safely across rugged terrain and on slopes up to 35 degrees.

Volvo adds that the PL3005E is more easily transported between and around jobsites than a traditional dozer-style pipelayer since the boom or counterweight don't have to be disassembled before being loaded up on a trailer or lowboy.
The machine boasts a 7-percent increase in lift capacity, 6-percent increase in horsepower and an 8-percent increase in maximum torque, Volvo says. All of these power improvements are complemented by a 5-percent decrease in fuel burn.
Volvo has also made improvements to the Load Management System on the PL3005A and offers new pipe-carrying and protection options along with enhanced telematics.
Inside the cab operators will find a new 7-inch color screen that displays machine load information along with visual and auditory signals when load limit is reached.
For those outside the machine, a trio of LED lights in green, yellow and red, indicate load status. Volvo says the machine also features a mechanical anti two-block system "which uses a wire sensor to prevent the winch blocks from coming into contact during lifting."
One year of Volvo's new ActiveCare Direct telematics program is also offered with the PL3005E. The service is aimed at customers who want the benefits of telematics data, but don't want the time-consuming task of doing the analysis. Data analysts staff the company's Uptime Center in Shippensburg, Pennsylvania, 24 hours a day and monitor the CareTrack telematics system on its machines, tracking their health and performance and looking for ways to raise productivity and cut costs.