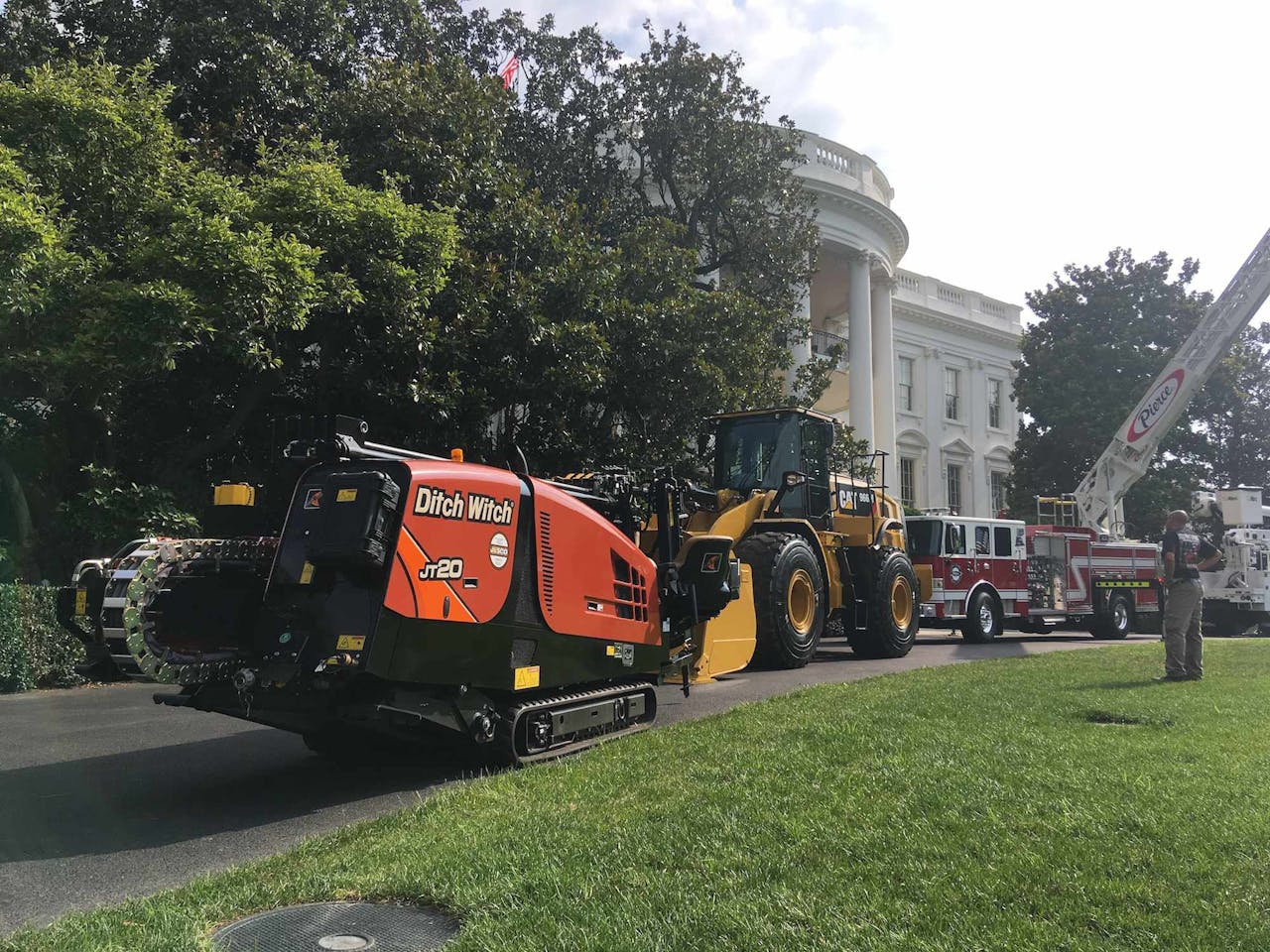 Caterpillar and Ditch Witch kicked off a special week at the White House focusing on American manufacturing with two of the largest examples of "Made in America" goods the country has to offer.
On Monday, the Trump administration held a "Made in America product showcase," inviting one manufacturer from each of the 50 states to show off their wares. The White House says the showcase was meant to honor "the incredible workers and companies who make 'Made in America' the world standard for quality and craftsmanship," noting that "for too long our government has forgotten the American workers."
A Cat 966M wheel loader and a Ditch Witch JT20 horizontal directional drill were displayed alongside each other on the South Lawn of the White House. Also representing the heavy equipment industry at the event was Alabama's Altec.
"Remember in the old days they used to have 'Made in the USA', 'Made in America? But made in the USA. We're going to start doing that again. We're going to put that brand on our product because it means it's the best," President Trump said in remarks delivered from the White House's East Room. "…We want to build, create, and grow more products in our country using American labor, American goods, and American grit. When we purchase products made in the USA, the profits stay here, the revenue stays here, and the jobs—maybe most importantly of all—they stay right here in the USA."
Of the showcase and its exhibiting manufacturers the President said, "I saw fire engines. I saw tractors from Caterpillar. I saw some incredible machinery. Make it right here. We thank you for being here. We're honored to showcase your creations. And I will say, they've really taken on, and some of you have built names that I know of for so long. And it's—congratulations. Right? You in particular. What a great job you've done. Thank you very much."
In his remarks, the President promised that manufacturers and trade workers could expect to "see a lot of things happening over the next six months."
"I want to make a pledge to each and every one of you: No longer are we going to allow other countries to break the rules, steal our jobs, and drain our wealth—and it has been drained. It has been drained," he said.
"And over the next short period of time, you're going to see things announced that you won't even believe for our country and for selling product in our country and making product in our country, and things that are great for American jobs. You're going to be seeing that happening really quickly because we are totally set up, and the hard part now is done. It is a long, horrible process, but we're going to also get rid of some of that process for the future. But we're going to stand up for our companies and, maybe most importantly, for our workers."
The President pledged to "protect our workers, promote our industry" by "removing the burdens and regulations on your companies so that you can compete, thrive, and grow."
In a statement, Caterpillar CEO Jim Umpleby thanked the President for the show of support for American manufacturing.
"Caterpillar is proud to represent Illinois and showcase this wheel loader as just one example of the skill and craftsmanship of our employees," he said. "We appreciate the President's dedication to manufacturing industries and the men and women who build and deliver some of the finest products in the world. Caterpillar has a substantial presence across the country—operations in 19 states, approximately 70 facilities, a workforce of 48,500, the tremendous strength of the independent Cat dealer network supporting customers in all 50 states and a supplier base of more than 15,000 companies. We welcome the opportunity to continue working with the Trump Administration on policies that will increase economic growth."
Ditch Witch president Dennis Wierzbicki said his company was "honored" to represent Oklahoma.
"Handcrafted in Perry, Oklahoma, Ditch Witch products are an important part of the history of American industry," Wierzbicki said. "We're proud of the innovative products we've contributed to the global underground construction market and strive to continually evaluate customer feedback to evolve our products to meet the ever-changing needs of the industry."