It's not often that you visit a place to take in the history within its walls only to find that the walls themselves have historical significance as well.
But that's exactly what you get at John Deere's stunning World Headquarters building in Moline, Illinois. Apart from housing corporate offices, the complex sits on 1,400 acres of—as you'd expect—extremely well-manicured land, and features a fascinating collection of historical Deere machines.
The building is the winner of multiple architectural awards. William Hewitt, Deere & Company President at the time, thought the look of the building should "reflect the character of the company of its employees," according to the Deere website. Designed by Eero Saarinen, the man who dreamed up the Gateway Arch in St. Louis, the building is built with COR-TEN weathering steel. Since its opening in 1964, this steel has aged with a patina that gives the building a very "earthy" look.
Among the building's many awards are the 25 Year Award and the First Honor Award form the American Institute of Architects, and the Architectural Award of Excellence from the American Institute of Steel Construction.s
But enough about the building. You're probably here for the collection of machines. The main atrium of the headquarters complex is filled with current and past Deere equipment from both the agricultural and construction/forestry divisions. We're highlighting several of these machines and we've included multiple photos for each with descriptions from the plaques Deere placed next to each machine below.
---
Model BI Tractor (1936-1941) among Deere's first construction machines
"The John Deere Model BI ('I' for industrial) tractor was one of John Deere's early entries into the construction equipment market along with the AI and DI. State and local governments often used these tractors for road maintenance. Industrial tractors were modified from the agricultural versions to allow attachment of third party construction equipment such as road graders, snowplows, etc. and to handle construction type work. Deere also painted them highway yellow with "John Deere" stenciled in black lettering instead of the traditional green and yellow which was reserved for agricultural tractors. Later they also offered other colors to conform with the requirements of government customers. This specific tractor was shipped to the John Deere Plow works in 1936 and used as a shop "mule" for 47 years, until 1983. The winch was not part of the original tractor and was added at some point in its service life."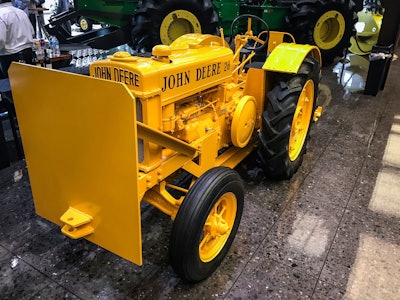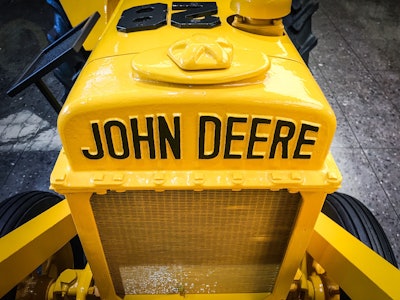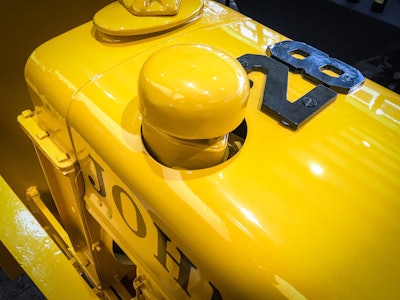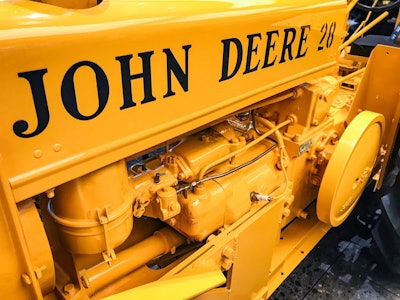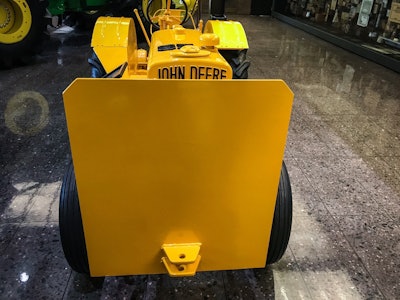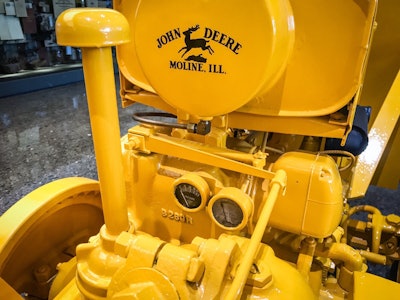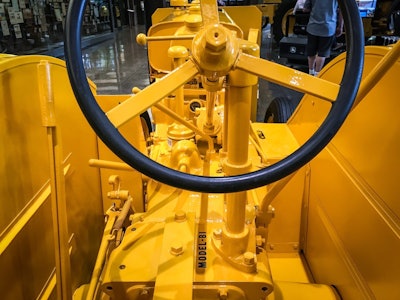 ---
Model 4010 Tractor designed in secret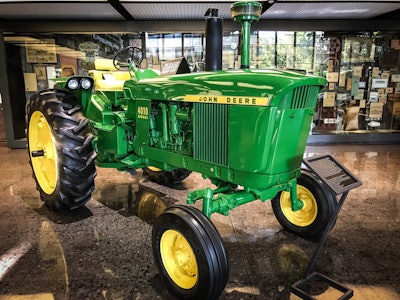 "In the late 1950s Deere was enjoying high tractor sales fueled by the post-World War II economic boom. John Deere's two cylinder tractors are very popular. However, the company president at the time, Charles Deere Wiman, recognized that there were limits to the power available in a two cylinder engine. Looking to the future he assigned a group of Deere engineers to begin a secret re-design of the famous John Deere tractor. After he retired, his son-in-law William Hewitt supervised the completion of the project. This new tractor line, known as the 'New Generation of Power,' was unveiled in 1960 at a massive product introduction called 'Deere Days in Dallas.' The model 4010 was the largest model tractor of the series, which included the 1010, 2010 and 3010. It had the following features:"
Option of either Gasoline 302CI (4.9L), Liquid Propane LP 302CI (4.9L) or Diesel380 CI (6.2L) engine
Option of either wide front, tricycle or single wheel front end
Option of either row crow, standard or high crop configuration
Syncro-range transmission
Power assist steering
Internal individual wet brakes
540 and 1000 RPM PTO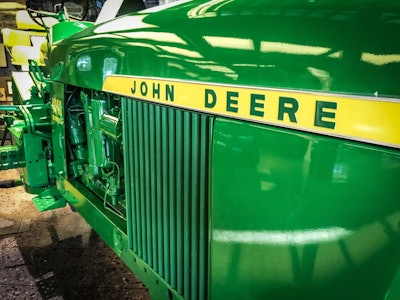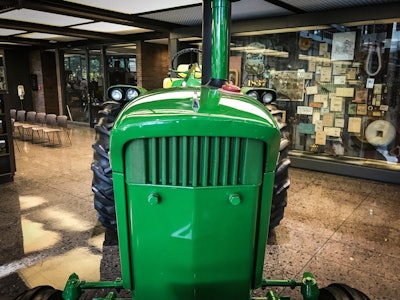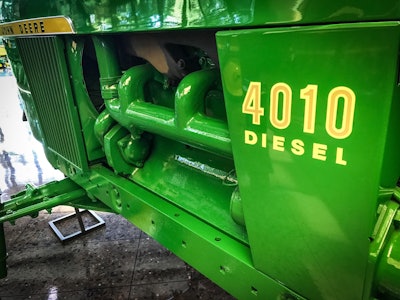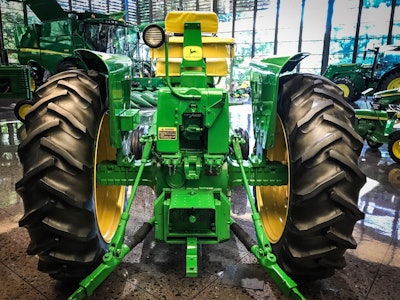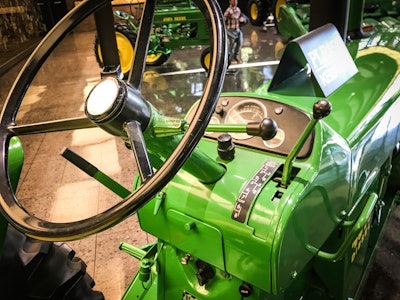 ---
Model 110 was Deere's first lawn tractor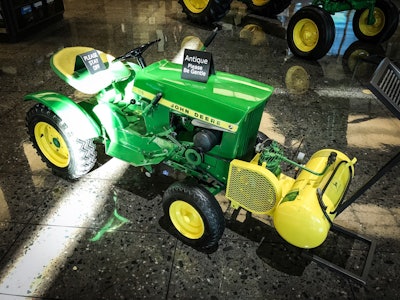 "In 1963 John Deere entered the riding lawn equipment industry with the Model 110 Lawn & Garden Tractor. Built in Horicon, Wisconsin, the lawn tractor featured a three-speed transmission, 7-horsepower Kohler engine and variable speed "Variator" drive system, and fiberglass hood and fenders. Many equipment options were available for the unit from John Deere and Brinley-Hardy. A few of the optional attachments were the one-bottom moldboard plow, cultivator, rake, material scoops, carts, roto-tiller, snowblower, and this Model 20 air compressor.
Later Model 110s had more attachments available, larger engines and operator comfort features like lights, high-back seats, and easy-fill gas tanks.
This pre-production Model 110 was produced in early 1963 and set the path for John Deere riding lawn equipment production, which continues in Horicon."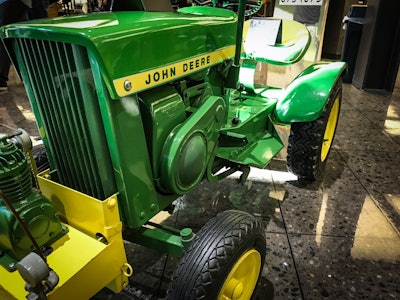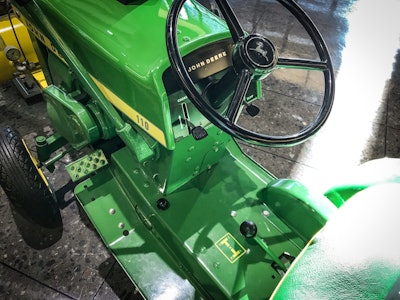 ---
1939 Model "A" Cutaway tractor was an educational tool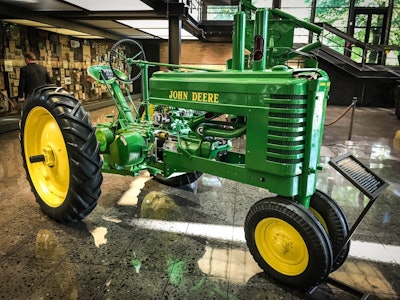 "John Deere produced several cutaway tractors to help explain how the tractors worked and to demonstrate innovative features. After a period of time some cutaways were donated to schools or other educational organizations. Since they were not intended for sale most cutaway tractors do not have serial numbers. This model 'A' cutaway was built for the 1939 model year, which was when the Model 'A' was redesigned as a 'styled' tractor with sleek sheet metal and optional electric starting. The Model 'A' is one of the most popular tractors in John Deere's history, and were the first production John Deere tractors to have an adjustable rear tread with the use of a splined axle."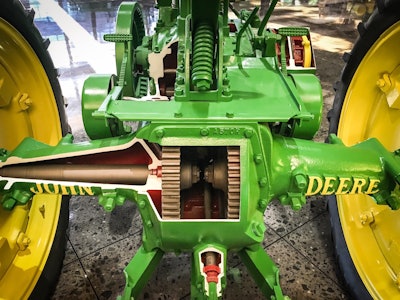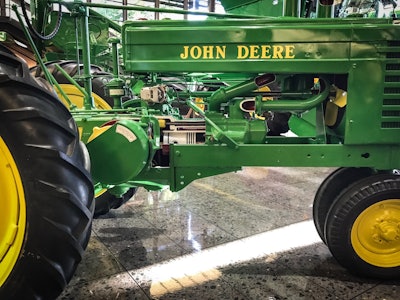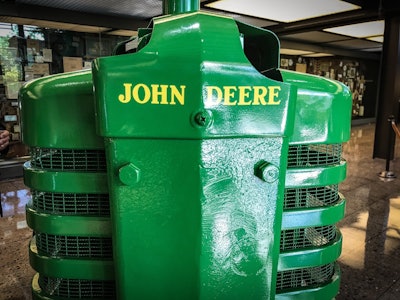 ---
Model 45 (1954-1959) filled demand for smaller combine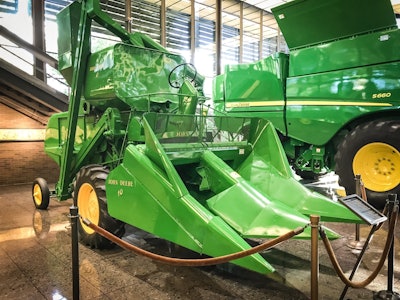 "The demand for a smaller combine was filled with the model 45 combine, using a three straw-walker design, a 26″ x 22″ rasp bar cylinder type threshing surface, it was similar to the larger model 55. The model 45 features include a Hercules JX4 engine producing 42 hp, a three speed transmission and a 40 bushel grain tank. It also came in two other crop versions, the model 45R for rice and the model 45B for beans. Optional grain platforms were the 8″ or 10″ cutter bar or the model 10 corn head as seen here.
With the introduction of the No. 10 corn head in 1954 John Deere created the first combine that could cut and shell the corn in one go. The corn head was so revolutionary it was named an Association of Agricultural Engineers historic landmark in 1999."