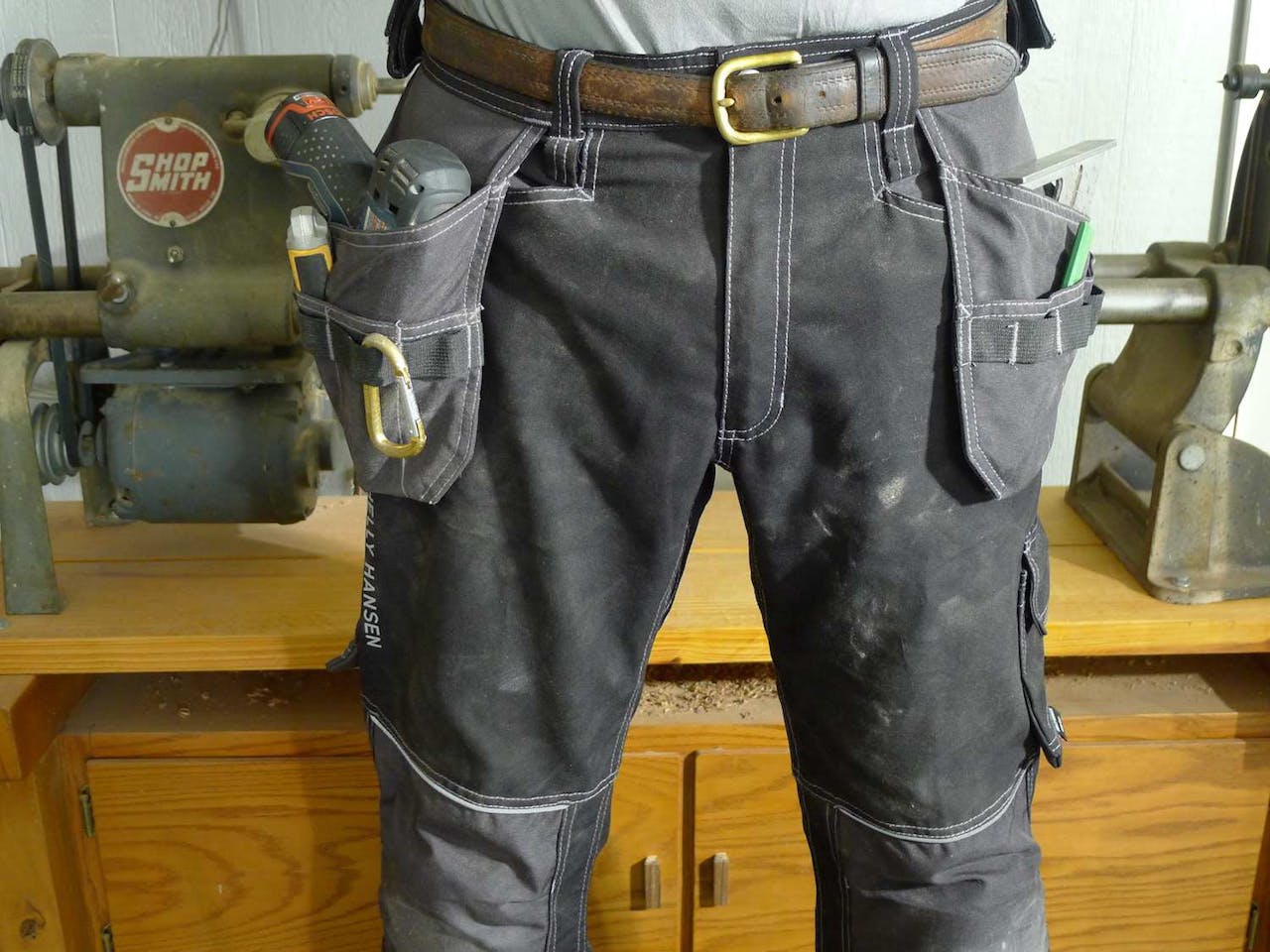 While blue jeans seem to be the favorite of contractors everywhere, there are better alternatives.
Take the Chelsea Work Pant and the Chelsea Construction Pant from Helly Hansen (HH Workwear) which I've been evaluating for a couple of months now. The two types of pants are the same, except the Construction Pants have built in pouches in the front. These pouches work much like tool belt bags but can be tucked back into the front pockets when not needed. In my photos, the Work Pants are tan colored while the Construction Pants are all black.
The first thing you notice about both style of pants is that they're baggy, loose in the legs with a gusset in the crotch. The loose fit keeps your legs cool in the heat and comfortable when you're crouched down or twisted up trying to execute some awkward task. The loose fit also rectifies the age-old problem of "plumbers crack" which happens when someone bends over in a pair of too-tight pants. Old timers understood the value of loose fitting workpants. Look at the old black and white photos of tradesmen and loggers—no skinny jeans in sight.
Next, and most important in my opinion, are the built-in knee pad pockets. A pocket on the inside of the pant with a flap over the top holds a removable 10-inch long foam knee pad. When you're standing, you don't feel the pads, but kneeling they provide excellent cushioning. It almost makes me mad to think of all the years I struggled with strap-on knee pads that fall down if they're too loose or cut off circulation if they're too tight.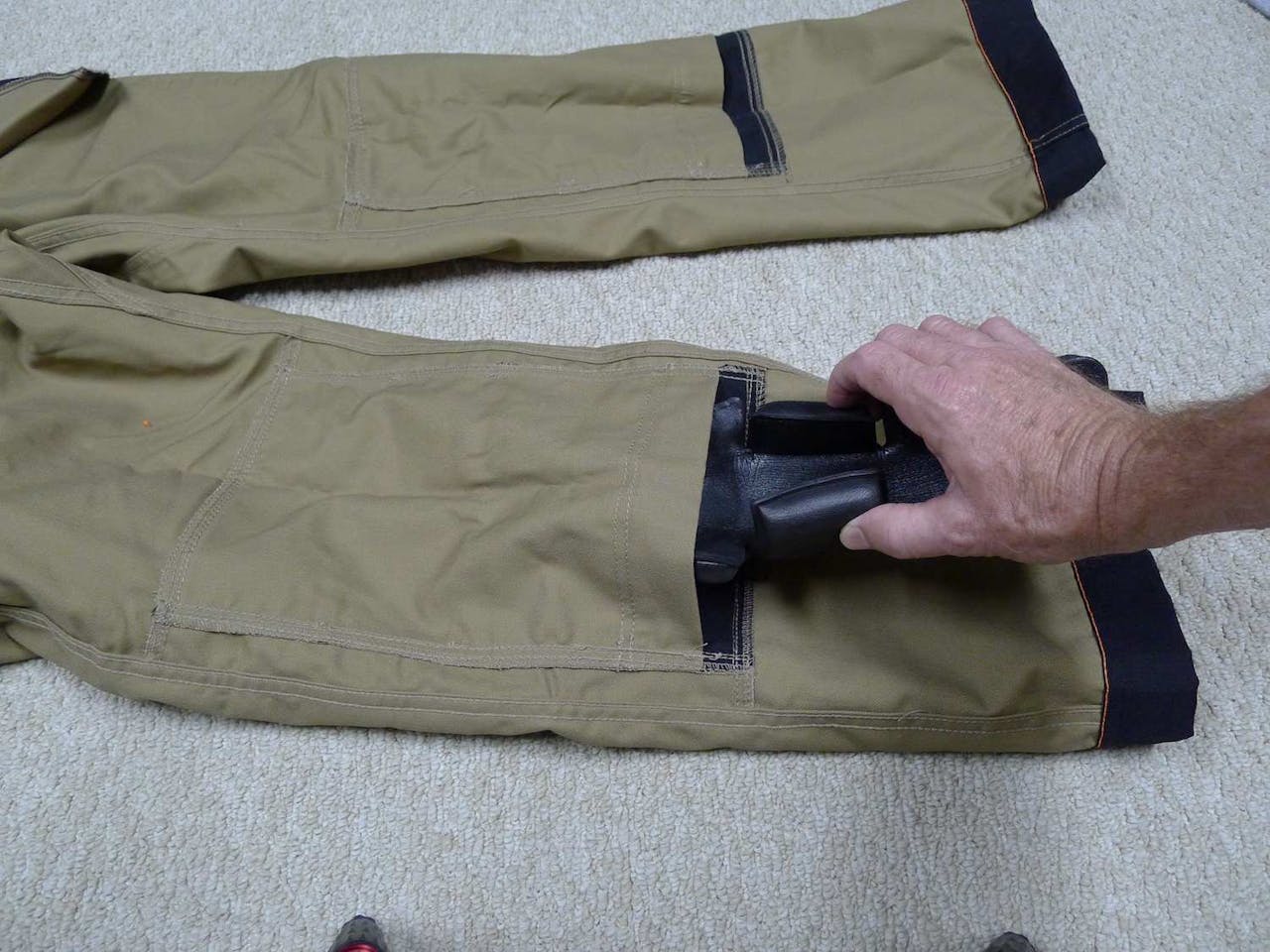 The Chelsea's knee pad inserts are more than just comfortable. I find myself able to stay down on my knees longer without needing to take a break. I can also drop to my knees quicker and pop up without having to worry about grinding one knee into a hard surface. And I don't have to twist around or keep one knee off the ground to alleviate pressure.
The regular front pocket openings aren't as close to the beltline as they are on jeans and this makes it easy to stash and retrieve small parts like drill bits, nuts and bolts. Even nicer, I discovered, is that you can stuff a pair of gloves in the Chelsea's front pockets and not worry about them falling out—like they always seem to do when stashed in the back pockets of my jeans.
As mentioned earlier, the Construction pants have two front pouches that perform much the same as a small nail bag, holding numerous small parts, screws, bolts and what have you. My initial assumption was that these would be useful for mechanics who want to keep a few small parts or sockets readily available.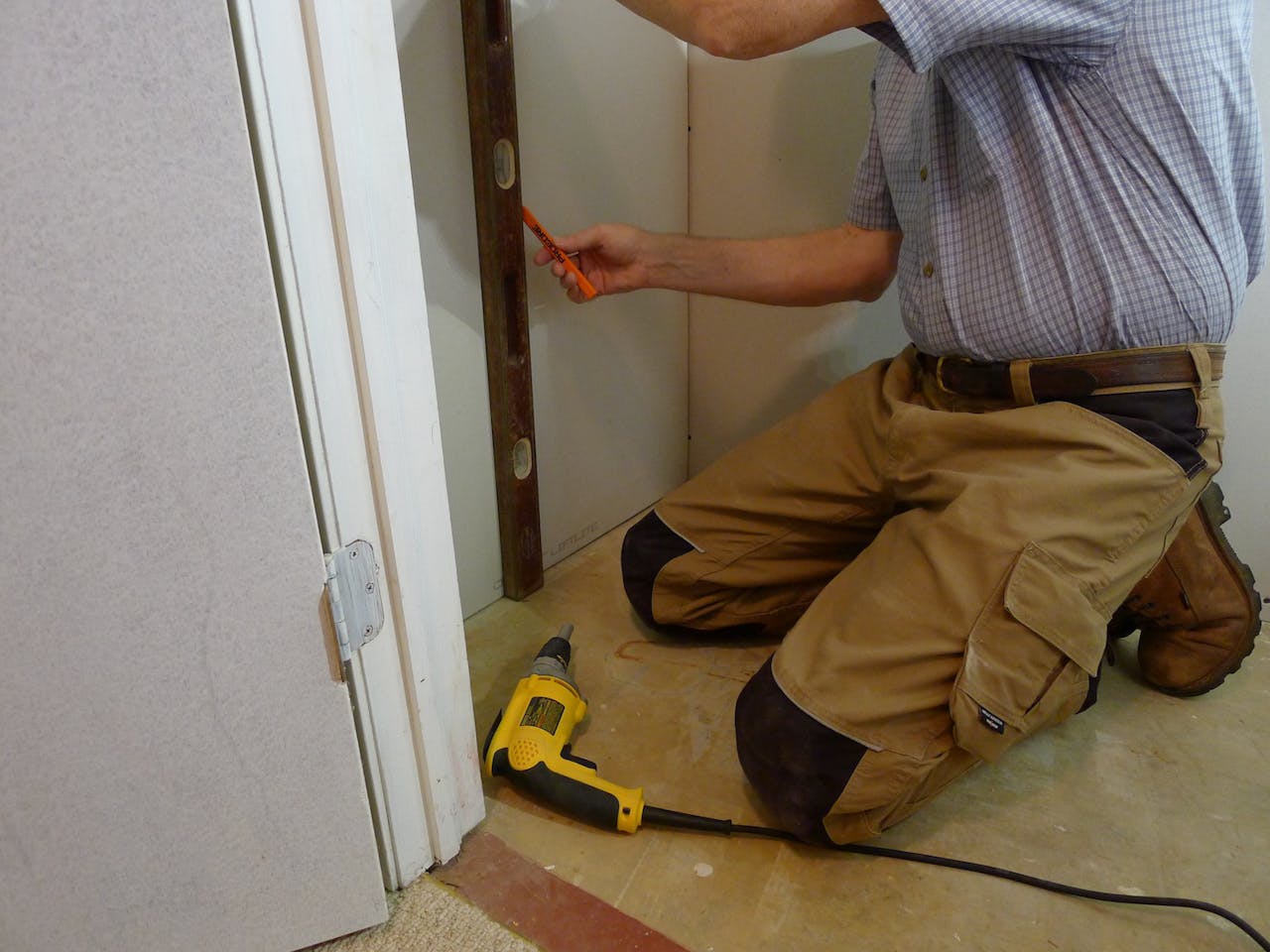 What I found though, was that the pouches are just about perfect for carpentry tasks. They'll hold a tape measure, pencil and speed square handily, and a small drill or impact driver. The main pouches are also big enough to keep a small number of nails or screws. In terms of cargo volume, they're not as big as a leather tool belt, but most of those are too big anyway. If you need to carry pounds of nails or screws on your person, just bring the box. That's my thinking, at least.
Helly Hansen's pedigree is in rock climbing, mountaineering and similar outdoor sports and they brought this mindset to the Chelsea's design with a profusion of side pockets, and attachment points. The cargo pocket on the left is sized about right for a mobile phone. In the open pockets on the right you can stash three or four tools and hang a hammer if need be. You also have a lot of small loops and clip on points for lanyards, carabiners and such.
One very thoughtful touch I noticed was a soft, plastic cap that fits over the metal button at the top of the fly. If you've ever worked on a car or a piece of equipment and scratched the paint with metal buttons, you'll appreciate this protection this provides.
The only complaint I had about the Chelsea pants was that the sizing was off. I'm normally a 36 waist/34 inseam, but the pair they sent in this size was way too small. I got a pair of 38/34s which fit too loose, but were OK with a belt. The inseams were a tad short as well. So if you order online, upsize the waist by two inches, or better yet, try some on at retail.
The pants are 79 percent cotton, 21 percent polyester with Cordura reinforced patches, so they should wear well. At $80 to $88 on Amazon, these pants may cost $30 to $40 more than a pair of blue jeans, but keep in mind you're not spending $20 to $30 for a pair of strap on knee pads either. Given their comfort and convenience and the ability to hold a multitude of tools the Chelsea Pants are well worth the extra money. (Editor's Note: As of publishing to the site, the Chelsea Construction Pant was available for between $53 and $88 on Amazon, while the Work Pant was available for between $59 and $80.)
If you work at a bench or in an office or the cab of a machine all day, the Chelsea pants may be a bit of overkill. But if you work in the field or a jobsite, especially if you do a lot of kneeling, you owe it to yourself to try a pair of these. You'll be glad you did.