From humble beginnings in a blacksmith shop in 1848 in Dresden, Germany, Wacker Neuson has grown into a global manufacturer of construction equipment.
This year, the company is celebrating its 60th anniversary of making equipment in the United States and its 50th anniversary in Canada.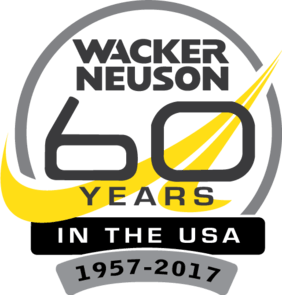 The Wacker family business started nearly 170 years ago in Dresden. In 1930, the company introduced the first electric-powered rammer for soil compaction. The bombing of Dresden in World War II destroyed their business, so brothers Peter and Hermann Wacker moved to Munich and started over.
Their business grew to the point that in 1957, they decided to expand to the American market with a U.S. headquarters in Hartford, Wisconsin. A year later, they built a new office, warehouse and production facility on Wacker Drive.
In 1967, the company opened its Canadian affiliate in Mississauga, Ontario. It was the company's 10th affiliate since entering the United States a decade earlier. The company's primary products at the time were its soil compaction and concrete consolidation products.
Wacker representatives would travel throughout North America in a 53-foot demonstration trailer filled with equipment. They would stop at jobsites along the way to let contractors try out the machines. Sales skyrocketed.
Over the years, Wacker Construction Equipment introduced products for construction, landscaping, farming, utility, residential, municipal and industrial markets. Those products include walk-behind and ride-on rollers, trash pumps, walk-behind and ride-on trowels, light towers and heaters. It also makes wheel loaders, telehandlers, excavators, dumpers, vibratory plates and internal and external vibrators and saws. It has most recently entered the skid steer and compact track loader markets. And in Canada, portable and temporary power-generation products are driving growth.
Some key milestones along the way:
♦  1986: The company moved its U.S. headquarters to Menomonee Falls, Wisconsin, near Milwaukee. There, it conducts research and development, engineering, manufacturing, sales, marketing and aftermarket services. It also houses a training academy.
♦  2006: Wacker acquired Ground Heaters, which gave it a manufacturing plant in Norton Shores, Michigan, and a logistics and warehouse facility in Germantown, Wisconsin.
♦  2007: Wacker merged with Neuson Kramer Baumaschinen, to form the Wacker Neuson brand. The company, which remains based in Munich, makes more than 300 products sold globally and employs more than 4,600 people.