Doosan has introduced a significant upgrade to its DL420-5 wheel loader, equipping the machine with a transmission capable of adapting to demand.
The new DL420-5 CVT is the first Doosan machine to feature a Continuously Variable Transmission, which can switch between a hydrostatic transmission and an automatic transmission based on the speed of the engine. The company showcased the machine at ConExpo 2017 earlier this month.
At lower engine speeds, the machine utilizes the hydrostatic part of the CVT. A hydrostatic transmission not only provides better fuel efficiency at lower rpms, Doosan says, but also boosts machine performance and position control (especially when climbing or working on an incline), and reduces heat development in the digging range. Once engine rpm rises, the transmission switches to automatic. And unlike torque converter transmissions, Doosan says the CVT automatic transmission is a one-to-one ratio with the engine.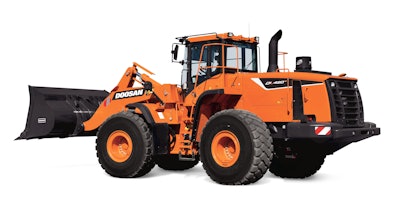 Doosan says because hydrostatic transmissions are more efficient at lower rpms while automatic transmissions are more efficient at higher speeds, the DL420-5 CVT gives operators the best of both worlds along with an increase in machine performance and productivity in digging, loading and lifting applications. The machine has a color and text indicator on the dash panel to inform operators when the machine is operating in hydrostatic mode.
A 311-horsepower engine powers the machine and offers Power, Standard and Economy work modes along with an auto-shutdown system configurable between 3 and 60 minutes.
The DL420-5 CVT weighs in at 50,177 pounds, features a 5.5-cubic-yard bucket capacity and a breakout force of 47, 210 lbs.-ft. Dump height is 10 feet, 1 inch.
The machine is available in a high-lift configuration for extra reach and dump height. This configuration increases dump height to 11 feet, 7 inches.