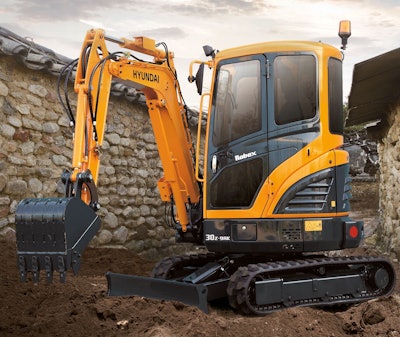 With a zero tail swing radius and fine control hydraulics, Hyundai has introduced the R30Z-9AK, a mini excavator designed for work in confined areas.
The new machine weighs in at 6,349 pounds and is powered by a new Kubota D1305 diesel engine rated at 25 horsepower.
Hyundai says the R30Z-9AK features an advanced hydraulic system designed to provide precision control and reduced operating costs over time with long-life bushings and wear-resistant/noise-reducing polymer shims. The bushings are rated at lube intervals of 250 hours. Hydraulic filters are rated at 1,000 hours and hydraulic oil is rated at 5,000 hours.
A four-way proportional hydraulic control is an available option.
Hyundai says it has also improved the cab structure design on the R30Z-9AK with stronger but slimmer tubing for more durability and better visibility. Inside the cab, Hyundai says operators will find plenty of room, reduced sound levels and an ergonomic design. A suspension seat is standard along with a storage box with key lock located beneath the seat. Seat and wrist rest settings are easily adjustable.
The machine is also equipped with the following safety features:
♦  A safety lock system is incorporated into the design to prevent exiting the cabin while hydraulic controls are live.
♦  When the safety lever and left side console are positioned upright, hydraulic functions are disengaged.
♦  A tiltable left-side console makes it easier for operator to enter and exit the cab.
♦  An auto shift traveling system: During high-speed travel, travel motor speed decreases automatically when subjected to heavy load, and resumes when the load reduces.