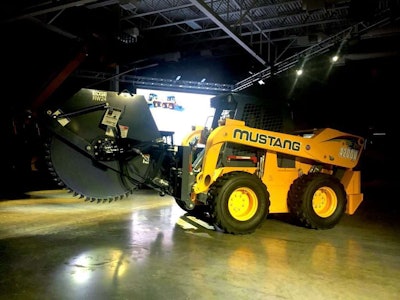 Manitou has launched four new skid steer loader (SSL) models including a new compact machine and the largest vertical-lift SSL the company currently offers.
First up are the large models. The Gehl V420 and Mustang 4200V boast a 120-horsepower Deutz engine and a rated operating capacity (ROC) of 4,200 pounds.
These models can operate a variety of landscaping-related attachments and has high-flow auxiliary hydraulics available up to 40.8 gpm to power high-performance attachments.
"It is an absolute beast," said Dan Miller, CEO of Manitou Americas and president of the compact equipment division. "It has the highest hydraulic capacity in the industry."
The new models have 3-percent higher breakout forces with a lift of 8,450 pounds and a tilt of 6,206 pounds. The V420 and 4200V are 79.5 inches wide and 82 inches high.
The machines come with a new full-color, multi-function display with "Push to Operate" logic found on the rest of the product line. Users can choose between T-Bar/hand-only, hand & foot, joystick, or duel-hand controls.
Servicing is facilitated by a cab that can rollback with lift arms in up or down positions and a wide door for engine access and side access panels. The chassis features an integrated fuel tank and simple diesel exhaust fluid tank fill access.
These models come rearview camera ready and are expected to be available this fall.
Manitou touts the smaller Gehl R105 and Mustang 1050R as being designed for squeezing into tight spaces with the lowest ROPS height in the industry at 70.3 inches and a machine width of 48.4 inches.
With an operating weight of 4,000 pounds, this compact skid loader can be placed on a trailer or towed behind a truck. The radial-lift machine is powered by a 34.7-hp Yanmar Tier 4 Final engine and also features a heavier built chassis and lift arms to provide more strength and reliability, the manufacturer says.
Customers can choose their control options between T-Bar/hands-only and hand & foot. The compact skid loader has a rated operating capacity of 1,050 pounds but an optional counterweight can increase the ROC to 1,175 pounds.
Maintenance has been improved with a wide, open door for full rear engine accessibility and a new location of the fuel filter. Like the V420 and 4200V, the R105 and 1050R come with the "Push to Operate" display and can use a wide variety of attachments, either from the Gehl/Mustang or Edge brands.
All other features, options and controls are the same as the previous Gehl 3640E and Mustang 2026 models.
Check out the video below to see the R105 on the move: