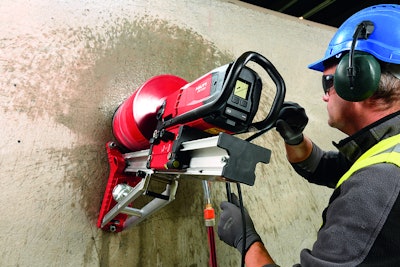 Engineered to drill holes with diameters from ½-inch to 18-inch in concrete, the new Hilti DD 250 Diamond coring tool features four gears for faster drilling speeds and better torque control.
Unveiled at the World of Concrete last week, the DD 250 also offers a "starting mode" so that the bit will track accurately into its kerf upon first contact with the drilling surface. The air-cooled, heavy-duty drive unit turns diamond-tipped bits at 240, 580, 1,160 and 2,220 rpm. It can be used to make accurate holes in concrete walls and floors for such things as service entries, ventilation ducts, and sanitation and plumbing pipes.
Because it is a wet drilling tool, the DD 250 is Table 1 compliant with the new OSHA 1296.1153 standard for respirable crystalline silica dust, due to become law in June.