At a recent press event at its Tomahawk Customer Center in the woods of northern Wisconsin, Case Construction Equipment unveiled its new G-Series wheel loader lineup.
The lineup consists of seven new models ranging from 141-347 horsepower and 2.1-6.26 cubic yard bucket capacity. The G-Series includes the 521G, 621G, 721G, 821G, 921G, 1021G and 1121G.
The new loaders replace Case's F-Series lineup which is about five years old.
Apart from bringing its entire lineup up to Tier 4 Final engine compliance, Case says the engineering focus with these new loaders was to lower total cost of ownership through more fuel efficient operation and smart hydraulics, and to make operators more comfortable with a new cab the company says was "built from scratch."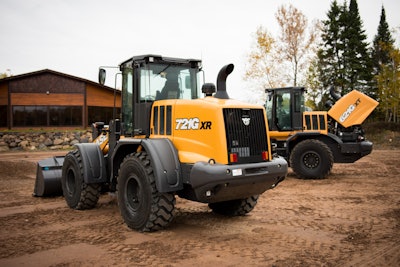 Designing for efficiency without sacrificing productivity
Andrew Dargatz, Case CE marketing manager for wheel loaders, says the company approaches the challenge of reducing total cost of ownership by striving to maintain production at a lower fuel cost, while working to increase uptime and reduce operator fatigue.
Dargatz says that's why the company is so confident in the selective catalytic reduction technology (SCR) it uses to meet Tier 4 Final regulations. "This system allows the engine to do what it was designed to do and that is operate at peak performance," he says. "There's no expensive diesel particulate filters (DPF) to replace and there's no recirculation of gases. There's no regeneration of any kind. No fuel is used or wasted to burn off any particulate matter."
Beyond fuel and time efficiency, Dargatz says SCR also allows the engine to breathe cooler. Avoiding extreme exhaust temperatures, Dargatz says, increases the service life of components. "We have very large municipalities that demand to use Case wheel loaders based on our engine technology," he says.
In addition to the cooling benefit of SCR, the 521G through the 921G also feature a mid-mounted cooling module that bolsters the machines' ability to keep operating temperatures down. The module is located between the cab and engine and features coolers positioned in a cube design that Case says ensures access to clean and cool ambient air.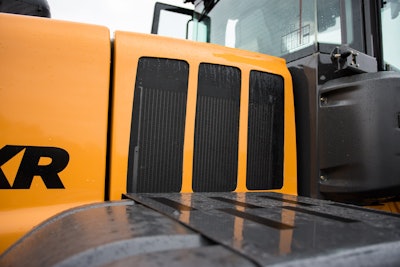 Due to the location of this module, Case engineers were able to push the engine lower and further back into the machine on the 521G through 921G models. "Not only does this provide greater balance for the machine, but it also contributes to better groundline serviceability and allows for a sloped hood for best in class visibility," Dargatz says. "A person three feet from the rear of the machine can make eye contact with the operator inside."
The 1021G and 1121G feature a cooling cube as well, but the engine was not relocated.
Case has also introduced a load-sensing hydraulics system to optimize hydraulic flow. "The piston pump provides precision control and ensures hydraulic fluid is only flowing when the loader arms are being moved and ensures only the amount that is needed is moving," Dargatz says. The loaders also feature four power modes for operators to choose from.
Each loader comes standard with a four-speed PowerShift transmission. An optional five-speed transmission with lock-up torque converter is available on the 721G, 821G and 921G for roading speeds up to 25 miles per hour.
Redesigned cab
Inside the new G-Series cab, operators will find a quieter operating environment that Case says incorporates automative styling and viscous mounts to reduce vibration.
Case started this cab overhaul by improving the electronics of each machine. A solid-state controller provides software control over electrical power distribution and vehicle functions and eliminates fuses and relays while significantly lowering the number of wires running throughout the machine.
Case also replaced the rocker switches found in the F-Series loaders with a membrane keypad that makes it easier to see which functions are active. Also replaced was the control panel in the center of previous generation loaders with a new steering console that mimics driver controls found in many cars and trucks.
An 8-inch monitor provides information such as fuel levels, temperatures, pressure readings, and trip info in addition to fingertip selection of operating modes and the view from the optional rearview camera.
The cab also has improved visibility thanks to a new one-piece rounded windshield. Case has also included a rear grid defroster, a more efficient HVAC system and a Bluetooth stereo with satellite radio capability.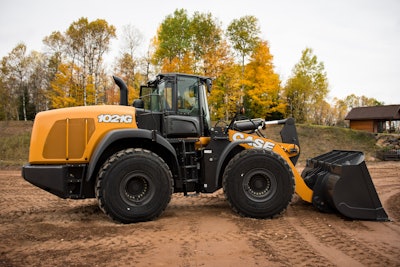 Linkage options
Case is offering a wide range of bucket and linkage options across the lineup. Due to its strong breakout force, Z-Bar is the standard linkage and an extended reach Z-Bar (XR models) is available.
On the 521G, 621G and 721G, Case offers the XT tool carrier linkage. This linkage offers better visibility down to the attachment and better rollback than the Z-Bar and thus minimizes spillage.
Each G-Series loader is available with a number of tire and axle options based on operating environment. The 521G through the 821G feature a standard limited slip differential that equally supplies torque to each side of the axle and automatically applies additional torque to the gripping tire. The 921G through the 1121G feature a heavy-duty axle with open differential that is ideal for working on hard packed or improved surfaces, especially when using solid tires.
All models are available with an optional heavy-duty axle with auto-locking front differential that is also ideal for use on hard surfaces and with solid tires and, depending on conditions, can transmit 100 percent of the front axle tractive effort to the gripping wheel.