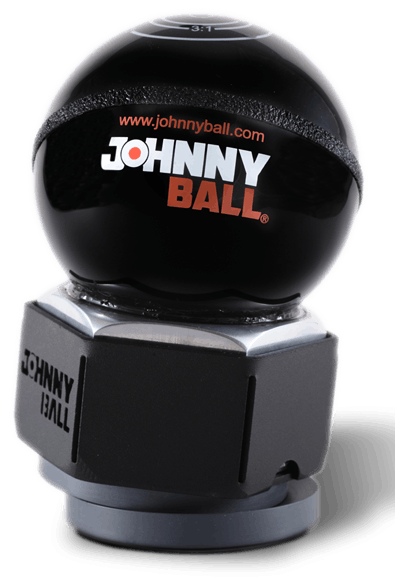 John Miller has been operating heavy equipment for excavation work for more than 30 years. In that time the Allendale, Michigan-based excavation contractor has grown quite familiar with a sensation unique to the job.
"When you're on the excavator and you level yourself up…it's a feeling. You know you're level," he explains. "When you're level, you're level. When you're digging, say, a basement and all of a sudden that machine starts responding to level. There's no denying it."
This description no doubt strikes a chord with any number of experienced operators. But Miller—the inventor of the JohnnyBall, a portable 3D on-board measuring system with no electronics—says that when he was first starting out as a rookie operator at a gold mine in Alaska, it struck him as odd that so much faith could be placed in a feeling when so much time and money was on the line.
"One day my boss literally asked me, 'How's the bubble in your butt?' I said that's kind of a personal question," Miller, who has owned JCM Excavating for the last 23 years, recalls with a laugh. "But what he meant was 'Can you feel level?' That day I realized that there's nothing in this half-a-million-dollar loader that even indicates what level is."
Of course, flash forward to today and heavy equipment operators can not only confirm whether their machine is level, but can actually hand over dozing and digging control to the machine itself thanks to advances in GPS-powered 3D machine control.
But between the no-technology machines of yesteryear and the semi-automatic machines of today, Miller, 53, thinks someone skipped a step. And that is where the JohnnyBall comes in.
"This is kind of the step that they missed. They went from a 2D slope meter straight to GPS," Miller says. "The JohnnyBall turns a piece of equipment into a giant three-dimensional level with level and common slope indications for our industry. The JohnnyBall has the fundamentals of excavating."
The JohnnyBall is designed to allow operators on dozers, loaders, backhoes, skid steers, excavators and more to quickly check whether their machine is level. Miller began developing the device four years ago and says it has a "compass-like design" consisting of a ball suspended in fluid, inside of another ball.
Instead of electronics, the device has a weight at the bottom and markings on the top to indicate slope and level at a glance. The ball mounts to base cups, allowing an operator to transfer one JohnnyBall between multiple machines.
The JohnnyBall comes as a system with two base cups and sells for $1,950. Extra base cups can be purchased for $99 a pair. Miller says he also offers a deal that outfits three crew members and six machines with a ball and base cups for $5,000.
Miller says though the components of the JohnnyBall are not complicated, it has the potential to make a big impact on the construction industry.
"The laser level took the rod guy out of the hole and that was enough to make a paradigm shift to where every excavating contractor owns a laser," he says. "The JohnnyBall can save 2-3 hours a day of dozer work. And those are conservative numbers."
Through focus groups and countless conversations with other contractors and operators, Miller says he has heard that many are put off by the complications and cost of a GPS system.
"They hate the cost of GPS and what it all entails; all the engineering and the issues that come along. It can be a real problem on the job," Miller says. "The JohnnyBall is not electronic. But it gives you something concrete that you can trust to work off of. This thing is a breath of fresh air for us."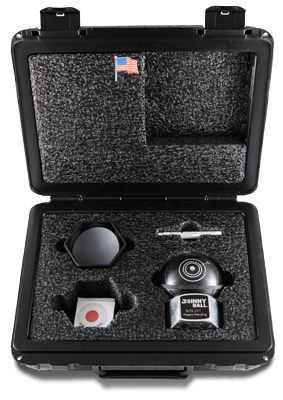 That being said, for those that do use GPS, Miller says the JohnnyBall provides a compelling, low-cost complement to machine control systems.
"For instance, if you are underutilizing GPS because due to a tree line or some other obstacle that doesn't let you shoot the GPS, if you have a JohnnyBall set up, you can still do 3D work," he explains. "Even if you have a dozer that is fully GPS capable what are you going to do with the other half life of that dozer. That dozer only runs half of its life with GPS. The other half, people are just dozing with it."
Miller says that while he's been most surprised by how helpful his invention has been to experienced operators, the JohnnyBall can be an invaluable tool for operators who are just starting their career.
"There's a skill level that has to come on very quickly in this business or else you become an accountant. With the JohnnyBall I could put anyone on a dozer and tell you to build a 3-1 slope and you could do it and I could walk away," he says.
"It's hard to get people into the excavation industry period and this thing gets you right over the hump and not only that it's going to make you a better operator by design."