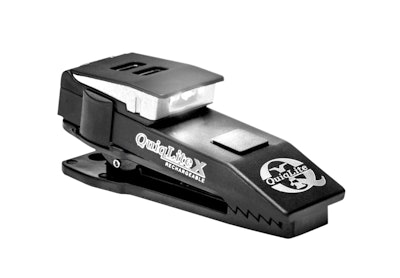 Headband-mounted flashlights have made every mechanic's nighttime work go easier, but now there's another solution with several unique advantages.
The QuiqliteX LED pocket light fits neatly in any shirt pocket and serves as a reading light, safety light, beacon or searchlight. Push the light's button once and a single bulb puts out 20 lumens of white light—low enough to preserve your night vision. Push the button twice and two LEDs spread 75 lumens across your work area for full illumination. The QuiqliteX will also function as a safety strobe and also has a "quick flare" attachment making it visible up to a mile.
Rechargeable batteries power the unit for up to 11 hours of continuous illumination or five hours in the emergency strobe mode. Using the supplied micro-USB charging cable, you can recharge the battery in about two hours.
The 1 x 3-inch unit fits easily in a pocket and stays secure with a magnetized clip, which can also be used to secure it to any steel surface. The light's body rotates 360 degrees with 160 degrees of up-down adjustment.
Retail price for the QuiqliteX is about $40. For more information, go to quiqlite.com.