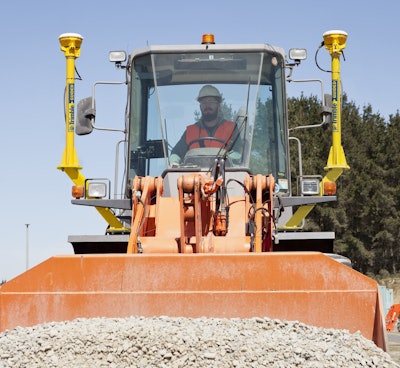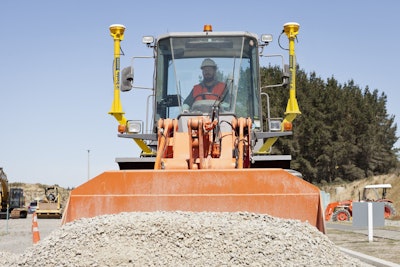 Say again? GPS on a wheel loader?
That was our first reaction too, but after talking to Jeff Drake, business area manager, Trimble Machine Control Systems, we discovered there's a lot to recommend in it.
While dozers and motor graders are the machines most people enhance with GPS/GNSS machine control, until Trimble brought out its GCS900 version 12.81 nobody had thought to try GPS/GNSS control on wheel loaders.
According to Drake, Europeans had been requesting such a system due to the small jobsites and confined spaces many of them work in. Wheel loaders are often used in Europe where dozers and motor graders are too large to maneuver.
Low cost operation
We generally don't have those space restrictions in the United States, but there are two compelling reasons to consider using a wheel loader for grading and leveling here as well: cost and convenience.
The owning and operating costs of a wheel loader are a fraction of that of a dozer or motor grader. But with the right front-end attachment, a wheel loader is perfectly capable of spreading and leveling stone, subbase rock and sand. Within limits you can also use a wheel loader to level building pads, dig basements and swimming pools.
What's more, a wheel loader does not need a dedicated Class 8 haul truck and trailer to cross a paved road. Add the fast cycle times and short turning radius of a wheel loader and you've got a contender that can do most of the light- to medium-duty applications that a dozer typically handles.
Light up the right size wheel loader with GPS/GNSS and you have a highly efficient, finish-grade machine that costs very little money to run, confined spaces or not. Could the Trimble GCS900 12.81 be used to level subgrades for roads and highways? There's no reason why not, says Drake.
Quarry applications
The Trimble GCS900 version 12.81 also works well in quarry applications, says Drake. "A lot of contractors get apprehensive about undercutting the pile and contaminating the material," he says. "With GPS/GNSS they can create an as-built design surface and make sure the bucket on the wheel loader doesn't go deeper than the floor of the quarry.
Drake adds that many wheel loader operators will use the machine to clean up quarry haul roads and with GPS/GNSS capabilities they can grade or fill these surfaces to the exact, original design created by the engineers. That not only reduces the need for a motor grader to work these roads, but also gives you better utilization on the wheel loader.
Size no limit
Last year Trimble introduced a GPS/GNSS guided system for Bobcat grading attachments, bringing the advantages of satellite-based machine control into the compact equipment realm. Drake says there are no limitations to the size of a wheel loader on which you could put the GCS900 12.81.
In Europe, wheel loaders in the 160- to 250-horsepower class predominate, while contractors in the United States prefer larger machines due to the volumes of material they work with. "But we're seeing a lot of contractors start to take advantage of 3D on smaller machines," Drake says.
Another cost-saving feature of the GCS900 12.81 is that it can be put together using Trimble components you may already own and use on other machines. The masts, receivers and angle sensors are all stock items that can be switched between various machines including dozers, motor graders and excavators.
Indicate only, for now
The system is currently indicate only. That means it does not automatically control the bucket elevation. In indicate-only systems the operator sees a real-time, 3D version of the design surface on the monitor screen in the cab and manually controls the blade or bucket to cut to the line designated on the screen.
A fully automated system is being considered, however, says Drake. "That's the next ask from customers," he says. "They want to be able to return the bucket to zero, or automatically control the bucket with respect to the design surface during a pass."
Trimble has also designed the GPS/GNSS for wheel loaders to synchronize with the company's Loadrite weighing system, TirePulse tire pressure monitoring system and VisionLink project monitoring as part of the Trimble Connected Site. By adding the company's VisonLink into the technology mix you can also monitor and record 3D earthmoving, grading and finishing operations throughout the life of the project and capture data to help make better decisions on project progress and equipment utilization, Drake says.