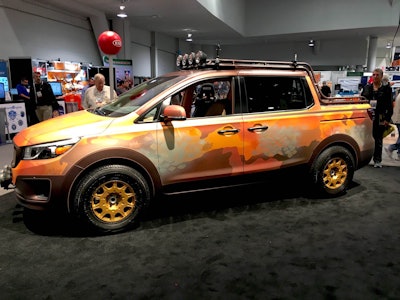 Kia does not make pickups, and though the Korean automaker's SUVs have become quite popular here in the U.S., it's not exactly known for producing trucks capable of traversing rugged terrain.
And, honestly, this here creation Kia showed off last week at the SEMA show in Las Vegas isn't exactly a pickup or an SUV. It's more wishful thinking than anything else, but it's also mildly cool which is why I'm showing it to you in the first place.
Now that I've completely undersold it, the Photo Safari Sedona, as Kia calls it, is a similar concept to the one we saw in Toyota's UUV at the same show: take a minivan and transform into a capable 4×4.
The concept was designed and built by LGE-CTS Motorsports and while that team didn't go as far as Toyota in mounting the Sedona on top of a pickup frame (Kia doesn't make pickups, remember), they did lop off the top of the van's cargo area, transforming it into a pickup slightly reminiscent of the Subaru Baja.
Since this van/truck is literally designed as a photography vehicle/mobile photo lab, just about the only thing you can haul around in that open bed is a couple of people and some camera bags. But it does have a Hellwig 2,500-pound airbag suspension system automatically adjusting height as it rides along on Nitto Dura Grappler tires wrapped around 17-inch Method Rally wheels.
Like Toyota, Kia also packed their minivan with tech. There's no 60-inch TV to be found here, but there is a battery-powered 27-inch iMac with a 5K retina display for getting some very serious photo editing done. And when you need to grab a shot a bit closer to the action, a Beard Torque racing seat slides out three feet from the rear passenger side of the van.