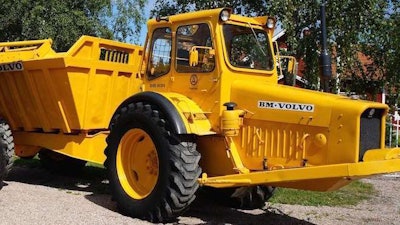 One display at the recent Volvo Days event in Sweden had a decidedly nostalgic turn: the 1966 Volvo DR 631, the company's first articulated hauler, also dubbed "Gravel Charlie."
Reconditioned by the nearby Munktell Museum in Eskilstuna, the Gravel Charlie is credited with starting an entire new category of construction equipment.
While a 10-ton hauler seems minuscule in today's market of 45-ton-plus artics, it was the start of a machine now used around the world to efficiently transport materials across the rough jobsite terrains.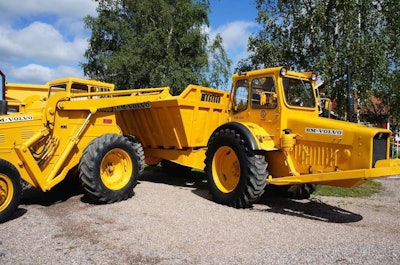 According to a brochure celebrating Volvo's 175th anniversary in 2007, here's how Gravel Charlie came about:
"At the end of the 1950s, the engineering company Livab in Braas was experimenting with combinations of driven hauler trailers and tractors. But there were several difficult problems, not the least of which was maneuverability. Since the tractor's front wheels easily slid in snow, the company simply started to sketch a tractor without front wheels, with articulated steering and drive on the load unit's wheels.
Development of the machine picked up speed and a few years later, in 1965, Livab signed a cooperative agreement with Bolinder-Munktell. [Volvo's precursor company.] The following year saw the introduction of the DR 631, the world's first series-manufactured articulated hauler with all-wheel drive."
Volvo reports sales were slow at first, and confined to Sweden.
The next year, Volvo developed the DR860, the first articulated hauler with a bogie, which enabled the body to remain level while the tires went over rough terrain, reducing material spillage. Several developments followed, including the introduction of the 5350 in 1979, which allowed greater speeds via a suspended front axle and an automatic transmission; Volvo also introduced a 6-wheel drive system that year.
By the 1980s, Volvo says its global market share in artics had grown to more than 50 percent. The company produced its 50,000th hauler in 2006, the 40th anniversary of the machine.
Volvo's artics grew much larger in size over the years; the 20-ton hauler A20 debuted in 1986; a year later, the 35-ton A35 launched and the 40-ton, 400-horsepower A40 was introduced in the mid 1990s.
Today's artics top out at the 50-ton B50D, produced by Bell Equipment. Current articulated hauler manufacturers marketing in the United States include Volvo, Bell Equipment, Caterpillar, John Deere and Komatsu.