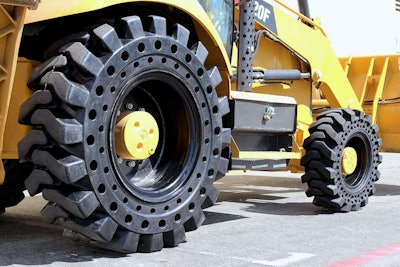 McLaren Industries has expanded their Nu-Air solid cushion tire line to include rear backhoe tires. An alternative to foam-filled or conventional pneumatic tires, McLaren's solid cushion tires work well in unforgiving applications where flat tires are common, and offer the strength of a solid tire combined with the smooth ride of a pneumatic tire.
The Dirt Terrain tire is designed to handle off-road applications where aggressive traction combined with high stability is needed. The DT tire has deep tread lugs for a solid grip on sand, rocks or deep mud.
The All Terrain tire is designed for backhoes used in a range of applications. A zigzag tread pattern delivers a smoother ride with less wear while traveling on hard surfaces such as asphalt or concrete, yet still provides good traction when off road.
Both tires feature Nu-Air's flat-proof technology, eliminating the chance of flats. The tires use three layers of rubber compounds and multiple shock-absorbing relief holes to achieve durability and a smooth ride. The extra weight of the tires lowers the machine's center of gravity for added stability.